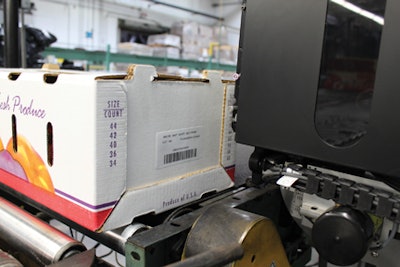 Sun Valley Packing Co., Reedley, CA, is a fruit grower and packer, operating more than 50 conveyor lines, funneling down to 10 case-packing lines. The lines handle nectarines, peaches, and plums that are channeled to the 10 different case-packing and labeling/coding lines. The conveying equipment is engineered in-house. Corrugated shipping case flats and case erectors are supplied by Maxco.
Sun Valley conducts manual case packing of the delicate fruits. In addition, the packer also manually applies traceability sticker labels on each individual piece of fruit. To identify case contents, the packer had been ink jet-coding directly on its corrugated shipping cases.
New coding criteria
The produce industry has created an initiative to provide packers with a framework for achieving distribution-wide, electronic product traceability. This Produce Traceability Initiative calls for GS1-128 bar coding on each case of produce by the third quarter of 2010. Information required on the bar codes includes product variety/description, lot number to identify the grower, harvest/pack date, and the grower's unique GTIN (Global Trace Item Number).
Sun Valley runs variable fruit cases. Boxes of peaches may be followed by boxes of plums, followed by boxes of nectarines, etc. Each case must be accurately and rapidly labeled without line interruption and the associated downtime. During the busy season, Sun Valley will label between 30,000 and 50,000 cases/day.
The packer investigated labeling system options that could accommodate this high degree of flexibility. After doing some preliminary work with another company, Sun Valley concluded that their system of choice is the PA6000 E-Series all-electric labeler from Diagraph, an ITW Company, utilizing a Model S8408 print engine from Sato America, Inc.
Using integrated software from Produce Jet (www.producejet.com), the Diagraph system prints and applies a 4 x 2-in label on each case of fruit. A built-in vision system identifies the contents of each case, specifies the data that needs to be printed on the label, and transmits the data to the Diagraph labeling station. Produce Jet and Sato worked together closely to make sure the printing format complied perfectly with the GS1-128 bar-coding specifications.
Sun Valley plant manager Alfred Pereschica says, "There are a lot of variables in our fruit box contents and box sizes. Just putting a label on a box is not a challenge, but data management is. We need to be able to identify the box size and contents within a millisecond and process that information to produce the appropriate label for each consecutive box. The Produce Jet software integrated with the Diagraph labeler allows us to do this.
"In addition, every piece of fruit has a traceable label with a bar code on it. The bar code tells the size of the piece, the type of the fruit, and that it came from Sun Valley Packing. We have gone to great expense to label each individual piece of fruit. But the retailers were driving us to do it. In fact, we have been labeling individual fruit pieces for a number of years, but this year we have added bar codes in preparation for the Produce Traceability Initiative."
Satisfaction times 10
After Sun Valley's positive experience with its first Diagraph/Produce Jet print/apply labeling system, the packer recently decided to order 10 additional systems. Pereschica says, "I'm really excited about these machines. The print/apply system has been running really well, and, when we need to change labels and boxes, it's pretty simple. We also like the fact that the system doesn't use air. Air is always contaminated to some degree.
"The label looks very neat, clear, simple, and readable, and the bar codes are 100- percent scannable. And we're running at rates of 100 to 110 feet per minute with about 30 inches in between each box. One box can be a 56-piece-count, the next 42, or a different fruit and box size. The system accommodates a lot of variables."
Pereschica concludes, "We need to implement GTIN by the third quarter. We want to be on the forefront of this trend and be able to offer it ahead of time. This print/apply system is helping us meet our labeling data management goals."
Companies in this article
Videos from Diagraph, An ITW Company