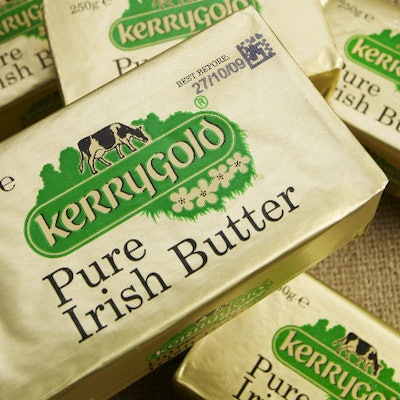 Increased print quality, greater sophistication of coded information, and improved equipment reliability are among the key benefits reported by dairy product specialist Town of Monaghan Co-op following the installation of Domino's new G-Series thermal ink-jet (TIJ) printer. These factors have proven critical to Town of Monaghan's contract with Irish butter brand Kerrygold, for which the farmer-owned co-operative produces several million butter blocks in its signature gold foil packaging each year.
Established over a century ago and based in County Monaghan, in the Republic of Ireland, the Co-op's production capabilities are the heartbeat of its entire operation and are pivotal to meeting the needs of key customers like Kerrygold. Following significant investment in the latest high-speed butter packing machinery to accommodate an annual output capacity approaching 50 million individual packs of butter, the Co-op realized that the continuous ink-jet coding systems used previously would not be appropriate for the new line and set about identifying an alternative technology that would ensure high quality printing and a productive workflow.
Having reviewed a number of options, Joe Martin, Dairy Manager at Town of Monaghan Co-op, was leaning toward a thermal-transfer printing system. However, before making the final decision, Martin decided to take a closer look at the benefits of thermal ink-jet delivered by Domino's new G-Series printer. The G-Series affords manufacturers improved quality and high-speed printing onto an expanding and diverse array of substrates, thanks to impressive 600 dpi resolution and speeds of up to 300m/min.
Following a demonstration of the equipment's attributes through Domino's Irish distributor, Codico, Martin admits to being instantly convinced that the G-Series' versatile functionality offered the right printing technology and best equipment solution for the company.
"We weren't a Domino site prior to this but it's fair to say that we basically bought the machine there and then," he explains. "I knew that it would fit the particular application perfectly and that its performance would easily match the 125 cycles per minute throughput speeds of our new Oystar Benhil Multipack 8000 butter packer."
Equally critical to Martin – and ultimately a key influencer to his decision – was Domino's position as the only supplier to offer a multi-substrate, fast-drying ink. This completely eliminates the issue of smudging and ensures that coded data, applied to Kerrygold's familiar gold foil, is highly legible.
"While the G-Series easily matches the speed of our butter packing machine, there is very little time for the ink to dry – a constraint further complicated by the fact that we are printing a foil as opposed to paper substrate – which makes it incompatible with traditional continuous ink jet," he says. "The gold foil is fed into it upside down and space is limited, but what's more important, the foil would already be going around a roller just as the ink is jetted onto it. I was therefore conscious that smudging would be a real problem for some ink-jet technologies.
"The G-Series' fast-drying ink is something we almost take for granted, but it's actually a unique and essential benefit that sets the machine apart from other thermal ink-jet solutions that only run slower-drying, water-based inks," he continues. "Basically, having purchased expensive butter-packing equipment capable of producing 250 packs per minute, we certainly didn't want our throughput to be limited by inefficiencies in our coding equipment."
As a vital element of the company's production line since its installation in May 2008, the twin-head G-Series is responsible for the application of a 'Best Before' date, as well as a five-digit dot matrix code comprising a production date and P.O/load number. This affords Town of Monaghan accurate traceability to the customer level in the event of any quality issue. Importantly, the G-Series' ability to print 2D bar codes and other machine-readable formats means that Town of Monaghan could, if required, incorporate additional production information to achieve even more precise and detailed track & trace data.
According to Martin, the in-built technological innovation of the G-Series and its ability to fulfill such potential requirements was a hugely attractive aspect of Domino's overall proposition. Crucially, this is also aligned to the company's overall investment strategy, which centers on specifying equipment capable of meeting both current and potential market developments to ensure a long service life. "We effectively have to 'future proof' any investment in new equipment," says Martin. "As well as meeting today's needs, we have to account for future technological or legislative changes within the industry and how these might impact upon our service capability. Traceability is a good example."
After rapid integration with existing packing equipment, the G-Series has fulfilled expectations in terms of speed and print quality, delivering on Domino's hallmark reputation for reliability and robustness to ensure that Irish eyes are definitely smiling.
"Dependability in our equipment is something we take as a given," says Martin. "We cannot allow ourselves to be let down, which is another reason we selected Domino as our supplier. Thanks to its reliability, long run times and quick replenishment of ink via a simple cartridge exchange, we are experiencing reduced downtime, which ensures we maintain throughput demands.
"My initial instinct around the G-Series has proved accurate and I'm confident that Town of Monaghan now boasts the most appropriate coding and marking technology for its needs – both for now and for tomorrow," he concludes.
Companies in this article