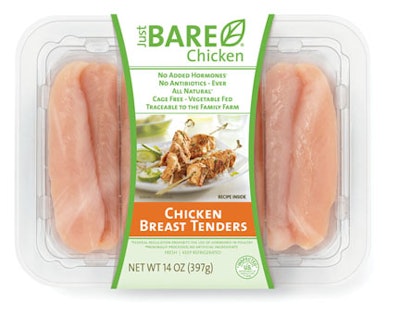 Reports Mintel, in a follow-up report to its to its "2009 Global Consumer Trends" study, "Six in 10 Americans worry about food safety."
A November 2008 national food safety and labeling poll conducted by Consumer Reports showed that almost half (48%) of the1,001 consumers interviewed said their confidence in the safety of the nation's food supply had diminished.
In response to these increased concerns around food safety, a number of food companies have implemented on-pack traceability measures. These programs are designed not only to allow consumers to quickly and easily identify the origin of a packaged product in the event of a recall, but also to create a sense of connection between the consumer and food producer.
Since last December, Just Bare, a premium brand of fresh, all-natural chicken packaged in a recyclable, transparent tray from St. Cloud, MN-based Gold'n Plump Poultry, has carried on its packaging a Family Farm Code. By entering a three-digit code on justbarechicken.com, consumers can learn the location of the family farm where their chicken was raised. Just Bare is sold at most SuperTarget stores nationwide, as well as at Hy-Vee and other regional grocery chains.
Says the company, "Just Bare is one of the first chicken products available nationally that addresses the full range of shoppers' concerns about buying, handling, and consuming chicken: from how and where the chickens are raised, to packaging issues relating to food viewability, handling, traceability, and recyclability."
From Tallgrass Beef, a Sedan, KS, producer of grass-fed, hormone-free beef founded by TV personality Bill Kurtis, came the announcement this past October that it would begin using the DNA TraceBack® system from IdentiGEN. The system, which has earned the U.S. Dept. of Agriculture's certification as a Process Verified Program (PVF), ensures that every cut of beef can be traced back to the family farm where the animals were raised.
Says Kurtis, "I started Tallgrass Beef with the idea of raising cattle the way they should be. Including DNA TraceBack is the final step in the process. It is our assurance that we stand behind every piece of meat and every product claim we make."
Another example is San Francisco-based JOG Distributions' Find the Farmer label, for its Stone-Buhr certified sustainable flour. The special label lets buyers learn about and even contact the farmers who produced the wheat that went into their bag of flour through the Internet.
In October, Kroger launched its Quality You can Trace program, using the HarvestMark traceability solution from YottaMark. The system allows consumers of Kroger's Fresh Selections prewashed, ready-to-serve packaged salads to use a 16-digit code to learn more information on the salad's origin, packing location, and ingredients, as well as the date and time the product was packed. (See related story at packworld.com/article-26269).
"Food safety is a top priority at Kroger," says Joe Grieshabar, group vice president of Kroger's meat, seafood, deli, and produce departments. "Our partnership with HarvestMark makes it easy for customers who are interested to learn more about the food they purchase for themselves and their families."

Companies in this article