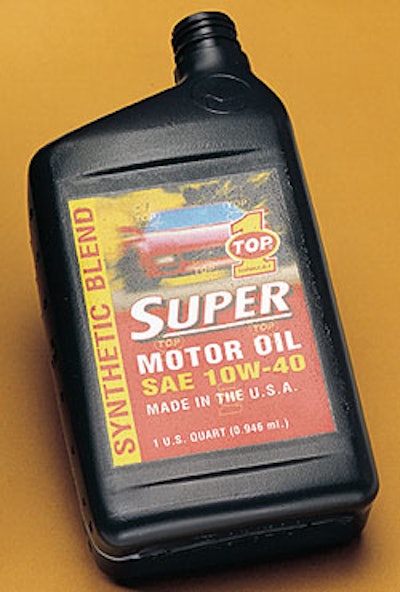 The "Super" line of motor oils in 1-qt, 4-L and 5-L sizes is marketed by Top Oil Products, a Burlingame, CA-based manufacturer and marketer of specialty lubricants, chemicals, and car care products.
Heat-transfer labeling is from Di-Na-Cal® Label Group (Cincinnati, OH). Top Oil is the first to use Di-Na-Cal's new Di-Na-Secure label commercially. It uses a special ink that delivers a holographic effect to the company's Top 1 Formula-1 logo, which is repeated in several areas on the bottle's front and back panels. These gold-colored logos are easy to spot by looking at the label while moving the bottle. If bottles don't have the tell-tale holographic look, they could well be counterfeits.
Di-Na-Cal reverse-gravure-prints the heat-transfer labeling in seven colors. Rollstock is sent to Graham Packaging (York, PA), which blow-molds and decorates the 1-qt bottles. Mayfair Plastics (Carson, CA) molds and decorates the two larger sizes. Filled bottles are exported to Asian distributors for sale to the retail market, and to repair shops and spare parts outlets.
"Preventing counterfeiting is the reason we went to these labels," says Joseph Ryan, Top Oil's vice president. "There are unscrupulous opportunists in the Pacific Rim area where we distribute our products. They can duplicate a bottle and make labels, but this holographic image keeps us a step or two ahead of them," he explains. Ryan, who says that Top Oil has sourced labels from Di-Na-Cal in the past, notes, "these labels did cost more than others, but they serve as insurance. It's an investment, a measure we've taken to not only make the label look unique, but also to prevent counterfeiting, which costs us money and hard-earned market share."
The Super oil label copy is purposely printed in English, including a large "Made in the U.S.A." line of type on the front panel. "We wave the American flag because made in the U.S.A. has selling appeal," Ryan believes. "It's synonymous with high quality. From the initial response, customers are greatly impressed and there's been an immediate impact," Ryan says. "We definitely plan to use Di-Na-Secure for other products." (JB)
Companies in this article