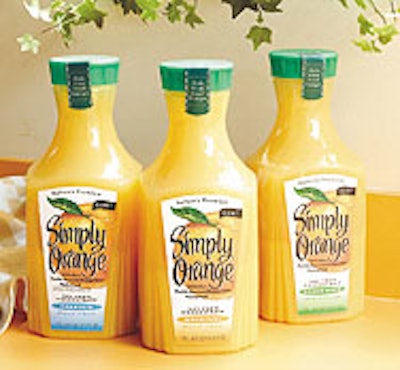 According to marketing manager Robert Patton, most premium NFC orange juices are in opaque gabletop cartons. He says the shapely clear carafe "Is an entirely different proposition than what's available in the premium chilled orange juice category today."
Schmalbach-Lubeca (Manchester, MI) injection/stretch blow-molds the 64-g custom container. Heat-transfer front and back labels are applied at the unnamed Florida contract packager that fills the container. Supplied by Di-Na-Cal® Label Group (Cincinnati, OH), the labels are gravure-printed in seven colors front, five colors back. Di-Na-Cal also supplied the heat-transfer labeling machine.
The carafe is topped by a proprietary 43-mm closure from Rexam (Evansville, IN). Injection-molded of polypropylene, the closure has vertical ribs around its skirt and an enlarged top that makes it easy to grip.
A pressure-sensitive paper tear strip, applied automatically and extending from the top of the closure to the neck of the carafe, reiterates the fresh-squeezed message that is prominent on the front label. One final package component is a heat-sealed tamper-evident foil membrane applied directly to the neck finish.
Minute Maid's director of technical services, Fred Sadeghi, says the PET container provides the same nine- to 10-week shelf-life as any of the gabletop cartons currently used in the premium juice category. He admits the carafe and its components cost "a little more" than a gabletop carton. But Coke is betting that the carafe's shelf impact and handling benefits will stimulate added sales and justify the upcharge. Suggested retail price for the carafe will be in line with comparable NFC juices.
Companies in this article