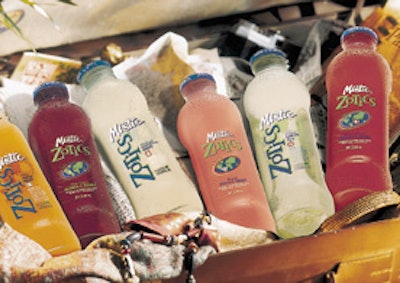 Owens-Illinois (Toledo, OH) manufactures the custom-designed, triangular glass bottle. "As the only beverage bottle in its class to utilize a three-panel design, Zotics is going to stand out at retail," says Triarc's vice president of packaging, Mary Ellen Reis.
Because the products feature flavors inspired by locations such as Brazil, Mozambique and the West Indies, each bottle's label graphics include a globe that highlights the drink's area of origin, as well as a "factoid" about the drink's unique ingredients. The pressure-sensitive, biaxially oriented polypropylene labels are screen-printed by Spear (Mason, OH) in as many as seven colors. A standard 38-mm lug closure with a tamper-evident, polyvinyl chloride seal tops the package.
Applying a separate label to each of the bottle's three sides, without damaging the bottle itself, is accomplished on labeling equipment from Krones (Franklin, WI).
Reis says that although Triarc prefers the globe side of the bottle to be presented as the "front" on store shelves, individual store managers will orient the bottle on shelves as they see fit. Aimed at a target market of 12- to 20-year-olds, the 20-oz, vitamin-enhanced Zotics drinks retail for $1.19 to $1.39 in convenience stores nationwide. Adds Bruce Bollinger, vice president of Mistic marketing, "The initial response from distributors and major convenience chains has been phenomenal."
Companies in this article