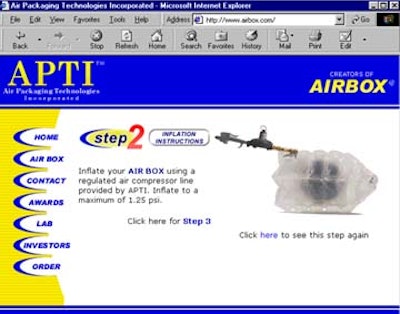 The site of Air Packaging Technologies Inc. (Valencia, CA), located at www.airbox.com, has a compelling visual demonstration of its air-inflated protective package that it calls Air Box™. Short animated video clips literally show how the package is opened, filled, inflated, sealed and packed. If a picture says a thousand words, then a moving picture is worth 10 times that, especially for demonstrating a product to visitors unfamiliar with the package. (The animation is accessible right from the home page by clicking the icon "3 easy steps.")
Salwasser (Reedley, CA), a maker of case-packing equipment, has a simple, easy-on-the-eyes site at www.salwasser.com. The products section is notable for its depiction of 11 thumbnail pictures showing all of the machines the company makes. The visuals permit super-fast navigation, resulting in the ability to home in on the desired machine.
CCL Label (Rosemont, IL) also has an easy-to-navigate site at www.ccllabel.com. It showcases the supplier's offerings in prime labels as well as labeling equipment. What was most useful on this site was the navigation controls. At every point in the site, there's a forward and backward arrow to go to the next or previous screen, product or topic, along with the name of that product or topic. Most refreshingly, on every page there is an information request button along with the company's e-mail address, physical address and phone number.
Comstar (Streetsboro, OH) has a very thorough site of its thermal-transfer printers at www.printpro.com. One of the nuggets on this site is buried down near the bottom of the rather lengthy home page, under a section called "Miscellaneous packaging and bar-coding links."
It contains a succinct list of a handful of some of the best bar-coding resources we've seen on the Internet.
See the main story that goes with this sidebar: Drumming up e-business
Companies in this article