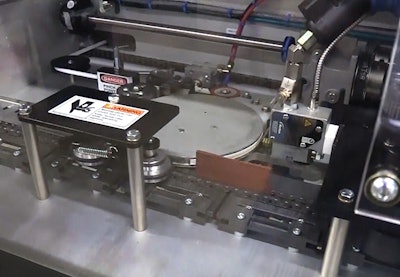 It then folds the bag top and bends the tie to secure the package.
Tin tie closures are commonly used on bags containing coffee (both whole bean and ground) as well as various bakery products but can be effective in closing any vertical bag closed with a single fold. To support productivity in packaging production lines, the 4500 Series has been designed to integrate with a vertical f/f/s machine to efficiently produce reclosable packaging in a completely automated system. The 4500 Series produces closed filled bags at up to 80 bags/min.
Closed bags with added tape.The 4500 Series machines feature robust construction, non-stop continuous motion operation and PLC-controlled automatic adjustment for different bag widths and matching tie lengths. The machine's frame is adjustable to adjust machine bed height to match the height of the incoming conveyor. The 4500 Series machines are available in right- or left-hand models.
Additional available 4500 Series options include custom conveyors, bag feeding spacing units, a low tie detection system, and a plow and tape down unit for tamper evidence security.

Companies in this article
Videos from Massman Automation