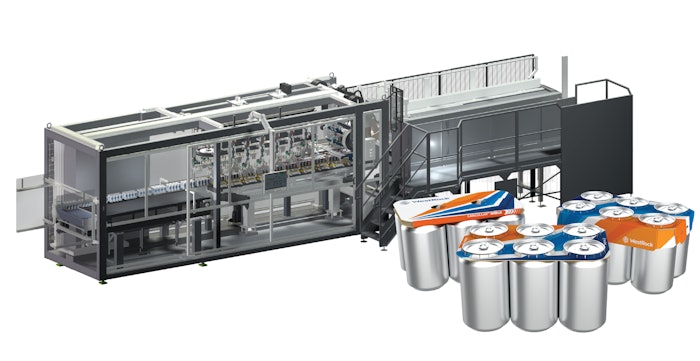 At PACK EXPO Chicago in 2018, WestRock began to demonstrate its CanCollar products, which constituted a paperboard can handle for beverages, craft beer, and canned craft spirits. This was one of a handful of departures from traditional HDPE can handles that we witnessed at recent PACK EXPOs. Application at the time was fairly manual, but that seems to have changed in a big way now in 2020.
At PACK EXPO Connects this week, the company featured its modular can handle application machine, capable of 600 can/min speeds, that is intended to be integrated into existing canning lines and either run parallel to, or replace, more traditional can handle applicators.
The most basic can handle is CanCollar Eco, the most economical of the options with a minimalist design that, in form and function, accomplishes the same task as traditional can handles. The basic or core Fortuna module accomplishes this.
Optional modules can be added to the base applicator machine, such as one for PremCollar Pure, a can handle format that adds some vertical paperboard billboarding space to the paperboard collar, allowing brands to print messaging on the paperboard. It also can ask as a physical barcode mask feature. A third option is CanCollar Shield, which brings coverage to the top of each of the cans, a hygienic feature some breweries look for. These two upgrade modules can be delivered on day-one with the purchase of the machine or be retrofitted as in integration later in the machine lifecycle.
Another optional feature is a can orientation module that orients cans so that any chosen or preferred messaging faces outward, toward consumers on a shelf. But for the cans themselves, all major can height and can diameters are able to be run on the core module, including sleek cans and 8-oz minis that are all the rage right now. Formats of 2x2, 2x3, or 2x4 are standard on the core module.
A few trends in canned beverages these days affect material handling after the fill, notable low-CO2 and thinner aluminum walls for lightweighting and material reduction. Linear starwheels carry cans gently, avoiding scuffing and denting or worse. Quality assurance can be expanded with optional inspection systems that, for instance, can reject incorrect colors of the can handle, or situations where the can handle doesn't fully engage and 'clip' onto the top of the can, among others. All are automatically coupled with a rejection system on the optional divider module.
Downstream of the applicator, a discharge module can either divide, or rotate and divide the can handled packs exiting the machine, to accommodate any further secondary or end-of-line packaging infeed requirements. For a more turn-key solution, a tray or wrap-around case packing module can be added downstream of the Fortuna. And for the entire Fortuna family of machines and modules, automatic adjustments and common change parts for repeatable changeovers are advantages. 
To view the demo in its entirety (available through March 31, 2021), and add WestRock to your MyConnects Planner, click here. 
Companies in this article