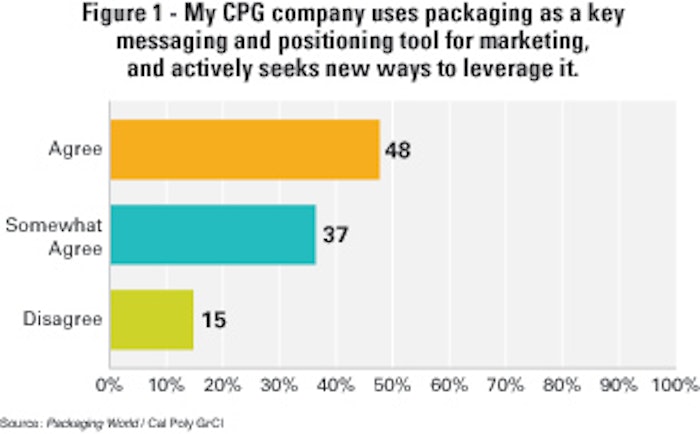 Methodology
     This research project consisted of four separate surveys conducted in August 2014, one to each of the following constituencies: Consumer Packaged Goods (CPG) manufacturers; Converters of labels, flexible packaging, and folding cartons; Contract Packagers; and Commercial Printers. The CPG survey was sent to a targeted portion of the Packaging World e-mail database, as was the contract packaging survey.
     The Converter survey was sent to Converters in the Packaging World e-mail database along with three additional e-mail databases:Paper, Film & Foil Converter, Converting Packaging Printing Expo, and the Tag and Label Manufacturing Institute.
     The survey to Commercial Printers was sent to a targeted portion of The Association for Suppliers of Printing, Publishing and Converting Technologies/The Graphic Arts Show Company/NPES.
     Non-relevant respondents were carefully filtered from each survey for accuracy, resulting in a net, non-duplicated response of 288 CPG manufacturers, 51 Contract Packagers, 160 Converters, and 56 Commercial Printers.
What new print-related digital technologies are surfacing these days that have the potential to assist Consumer Packaged Goods manufacturers in marketing their products? And what are the perspectives of not just the CPG companies but also the suppliers they rely on when it comes to leveraging such technologies?
These are the two key questions that drove our "Innovation in marketing through packaging technology" survey. Developed jointly by Packaging World and the Graphic Communication Institute (GrCI) at Cal Poly, this is a unique piece of research focusing on the converging worlds of brand marketing, packaging, and digital graphic technology.
"Survey" is actually a bit of a misnomer, since we're actually looking at four separate surveys customized for four distinct groups: CPG companies, Converters, Commercial Printers, and Contract Packagers. Space constraints make it impossible to share all 5,500 specific data points or all 350 of the verbatim comments we received from the total of 555 respondents—even though we're devoting significant space to the survey in this month's and next month's issues. But the survey results in their entirety are available at pwgo.to/1072.
One more editorial housekeeping note before plunging into the survey results themselves. So that we could bring readers some context and perspective in addition to the data produced by the survey, we shared the survey results with a small posse of experts and asked for their reactions to a few of those results. The experts are:
• Jay Dollries, President of Innovative Labeling Solutions, a Cincinnati-based converter of packaging materials that was among the earliest to embrace digital printing
• Malcolm G. Keif, Professor and Graduate Coordinator Printed Electronics & Functional Imaging, Graphic Communication Department, Cal Poly State University
• Colleen Larkin Twomey, Assistant Professor at Cal Poly State University
• Carl Joachim, a well-respected printing industry veteran who has been following print-related digital technologies and their impact on packaging as closely as anyone on the planet.
On to the results
The goal in this month's story and the one planned for next month is to present highlights of the survey results. We begin with (Figure 1), which establishes quite definitively that CPG companies are indeed keen on using packaging as a key messaging tool for marketing and they are actively seeing new ways to leverage it.
We then asked CPG companies which of six emerging digital innovations are they researching or using. The six were digital printing, QR code technology, augmented reality, Near Field Communication (NFC), printed electronics, and 3D printing. Surprisingly enough, as (Figure 2) shows, 42% of CPG respondents said they are not using or researching any of the six print-related digital technologies. Of the technologies that are in use, digital printing came in the highest at 34%, followed by QR codes at 28%.
We also asked the Converters to answer a very similar question to see if their activities and investments in emerging digital technologies paralleled that of their CPG customers. As we see in (Figure 3), the answer is yes, with digital printing capturing 61% and QR codes 42%.
Survey takers were also given an opportunity to pick one of the six emerging print-related digital technologies and describe its usefulness in packaging. Digital printing was picked by the highest percentage among both CPG company respondents (46%) and Converters (70%). Among the 185 CPG company respondents who chimed in on the usefulness of digital printing, many talked about short runs, speed to market, rapid prototyping, and the ability to practice mass customization. Here are some of the more intriguing comments:
• Two years ago, in a drive to become leaner, I introduced digital printing into our supply chain. Shorter lead times, improved quality, shorter run quantities, increased flexibility, eliminated stock holding, and zero origination costs were all incentives for the change. Now we have consolidated all our suppliers for labels, printed folding cartons, and heat shrunk sleeves into one supplier. Purchase prices have been improved, and for the most part we hold minimal packaging materials in stock, which means capital is available to be used elsewhere in our business. In addition to external supply of digitally printed purchased goods, we have an in-house Primera printer, allowing us even greater flexibility.
• Digital printing has improved to the point of challenging litho processes. It accommodates faster turnaround, lower runs, and customization for the demands of the customer. It has enabled us to react to urgent demands, such as regulatory revisions, trial packaging, bonus packaging and promotional materials for shows, demos, focus groups, national meetings, training sessions, etc.
Converters chime in
Converters also had good things to say about digital printing:
• It will be very effective for short-run jobs and will also help in shorter turnaround time. Clients will get product faster and in smaller quantities, which will help in easing the level of investment for procuring packaging materials. Instead of buying a big quantity of goods for the entire month, they can probably buy in smaller quantities. Initial investment is also less as digital printing eliminates some of the investment required for prepress work.
• I see digital printing useful not only as a short-run solution, but also as a solution to jobs that can be difficult to keep registered on press. For example, we have one client who combines shadow and highlight effects in Photoshop with very fine CMYK reverse text, and even with our laser CTP process we find it difficult to produce consistent results for this client. Digital would be a great fit for this job even though it is not a short run.
• In one year, on a 9% increase in sales, our shipping events have increased almost 50%. People are ordering smaller lots, more often, and in greater variety. The shift has been underway for years, but it seems to have accelerated lately. Hence the advantage of plateless printing with minimal make-ready. Short run capabilities seem to be a hot button in the market.
More than one Converter respondent worried about the personnel side of digital printing: "Not all flexo operators can operate digital presses. They're more computerized versus the older flexo presses that we have, which are much more mechanical in operation. Highly skilled flexo operators are not necessarily skilled digital operators. Which raises this question: Who runs the digital press?"
Cost of digital presses was another concern of some Converter respondents, including this one: "We've found that the low-cost solutions are impossibly expensive to operate, but everything else requires $500K to $1MM in investment. We would love a middle-market solution, a print engine with finishing under $350K."
Also voiced several times by CPG company respondents and converters alike were concerns like this one about food contact issues: "Digital printing has unbelievable potential applications in the packaging market—if the ink suppliers can be more specific about FDA and food-contact safety, it would be even better!"
What's your stance on digital?
Because we anticipated in advance that digital printing was going to be the emerging print-related digital technology in which CPG companies are most actively engaged, we asked them to characterize their company's stance on digital printing specifically. As (Figure 4) shows, 25% of CPG respondents currently use converters to digitally print some SKUs. This is not a particularly high percentage, though it should be pointed out that another 26% either are researching or plan to research digital printing. As for why less than a quarter of CPG respondents say they use digital printing on today's packages, we'll gain some insight into that when we get to (Figure 5).
One other observation about Figure 4 is the surprisingly high percentage of CPG respondents indicating they have purchased their own in-house digital printing presses. Jay Dollries of ILS says he's quite sure that where digital capabilities do exist at CPG companies, the systems involved are "low end." He adds, "I wouldn't even consider that to be part of the digital movement because it's done at such small volumes and low speeds." As one of the very first to take shipment of an HP 20000 digital press, he should know a thing or two about printing packaging materials digitally in high volumes. The HP 20000, designed specifically for flexible packaging, is widely viewed as a game changer because of its 30-in. web-width capability, which is significantly greater than presses that have been available heretorfore.
Colleen Twomey of Cal Poly has this to say about CPG companies and their in-house digital capabilities. "This makes sense to me from the standpoint of reducing time to market if you want to do some test marketing. A CPG company that's rolling out a new package design concept can print 500 or so to test in the field, and if the test quantities show consumer interest, they can then easily bring that printing to a traditional printer to gain market momentum."
Seeking further insight into what CPG companies are thinking, we asked if they agreed or disagreed with nine wide-ranging package printing issues. The results, which are captured in Figure 5, shed some light on why only 25% of CPG companies currently have SKUs printed digitally. That number might be higher if not for the fact that 54% of CPG respondents agree and 32% somewhat agree that their company would require them to get re-approval of all packaging if they moved from traditional methods of printing to digital. The need to undergo this re-approval process, says Malcolm Keif, may hinder broader adoption of digital printing, but it serves a purpose.
"Changing printing processes is not as simple as just switching from flexo to digital," says Keif. "Even if the digital printing is better, it is going to look different. Any change in appearance on the shelf is going require new designs. Without a change in design, it is unlikely that a perfect match will occur, and when products look different on the shelf, the consumer assumes that either the new design or the old design is outdated. The transition can result in a lot of spoilage."
Twomey agrees, adding this. "Matching colors is terribly important. You have to be sure there's no deviation in brand colors—Pepsi blue or Coke red--which are often spot colors. Not all spot colors can be produced with CMYK, and digital printing is still primarily CMYK. So it's important not to think of digital printing as a simple drop-in solution."
As for Joachim, he expects packaging material suppliers to play a role in getting CPG companies over this re-approval hurdle. "Suppliers of packaging substrates, in particular those used for flexible packaging in food products, will play a key role in introducing pre-approved materials into the supply chain," says Joachim.
Price per unit
Also captured in Figure 5 is CPG respondents' perspective on the importance of price per unit. While 64% either agree (22%) or somewhat agree (42%) that their company only focuses on price per unit as opposed to taking into account all associated costs and benefits, a sizeable number (36%) disagree. Twomey emphasizes how important it is to look at the full picture when analyzing this price-per-unit issue.
"Keep in mind that Brand Managers at the CPG companies may not always be the decision makers," says Twomey. "Many times that decision goes to Procurement, with the Brand Manager having some input. So depending on how Procurement people are compensated—for example, they may be eligible for a bonus if price per unit is reduced--a digital solution that carries an upcharge compared to a traditional printing solution may not fly. Sometimes what has to happen is that someone who sees the advantages of digital has to call the procurement people and say, hey, we know how your compensation is based, but let's look at the total cost of ownership over a three-or five-year period and the long-term benefits to the brand."
Dollries echoes Twomey's observation about how compensation arrangements can cause CPG companies to be fixated on piece price. "Some are willing to look at total cost, in which case such things as inventory cost and the cost of obsolete materials enters the picture," says Dollries. But price per piece remains a pretty dominant part of the discussion, which is unfortunate in a way. What it winds up doing is it increases the importance of our ability to educate customers about what all the different associated costs really are."
Joachim says the fixation on price per unit reminds him of the transition to digital document printing some twenty years ago. "Back then, print as a commodity had an established price point in the market," says Joachim. "But as the marketing benefits, time-to-market, and reduced waste and obsolescence were better understood, a new digital printing business model helped drive the adoption of digital print. We can expect to see something similar unfolding where digital print and packaging are concerned."
Next we turn to (Figure 6), where we learn that a surprising 80% of converters either agree (33%) or somewhat agree (47%) that traditional printing processes like offset, gravure, and flexo are sufficient for meeting customer needs. But 62% of them say they struggle with short runs, 91% say SKU proliferation is not going to slow down, and 94% say lead times are getting shorter. All of these issues can be addressed by installing digital presses. So how can 80% of Converter respondents say that non-digital printing processes are sufficient? And it's not like the Converter respondents just haven't heard about digital solutions, because 93% of them said they are aware of digital print and they track such technologies.
"When converters say that traditional printing processes are sufficient, remember that even as digital presses are increasing in size, speed, and capabilities, manufacturers of traditional presses are focusing on make-ready reduction strategies themselves to be more competitive on shorter runs," says Keif. "New tools are available for off-line ink color matching with greater correlation to press results. The crossover point for short-run printing is always a moving target. There is no question that digital presses may offer a better solution for short-run, but the reliability and familiarity of traditional presses make the transition difficult for many."
Twomey also understands why a switch to digital printing could be difficult for today's converters. "Moving from one print process to another is costly—prepress, file prep, make ready, etc. Even a conversion from gravure to flexo for a sizeable product volume is lengthy and requires attention to detail. In addition, much of packaging involves non-porous substrates, and with few exceptions, digital presses have been better with porous substrates like paperboard. Digital does not have all the solutions…yet."
Joachim emphasizes that converters should evaluate the full picture when deciding if a move to digital is right for them. "Converters must consider what the total solution configuration looks like," he says. "Post processing is a significant part of the package printing process. As digital technology for packaging advances, functions like die cutting, slitting, folding, etc. will become right-sized and compatible with digital printing platforms. As these solutions evolve, the adoption of digital printing in packaging will gain momentum."
As for Dollries, the way he sees it is that traditional printing technologies become insufficient as soon as SKU complexity enters the picture.
Finally, we asked Converters when they were most likely to invest in digital printing (Figure 7). 36% of Converter respondents indicated they had already done so, while 11% said they had no plans to invest in digital.
In next month's issue we'll continue our exploration of innovation in marketing through print-related digital technology by taking a closer look at SKU proliferation and at some of the competitive issues that are roiling the supply chain.