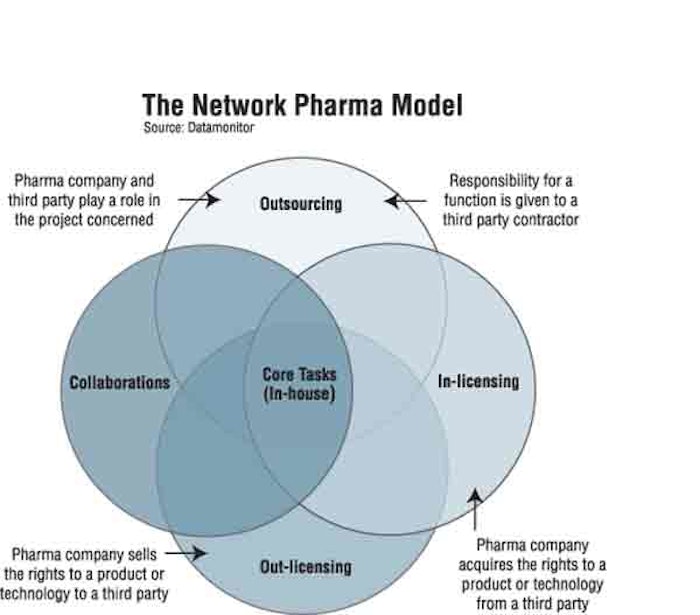 The pharma industry is suffering from low R&D productivity; the number of new molecular entities (NMEs) approved in the United States has fallen to its lowest levels in 20 years, record investment in R&D, according to a new report from Datamonitor, an online provider of global data, analysis and forecasting for major industry sectors.
These changes in the pharma environment are prompting product manufacturers to find novel ways to overcome the challenges facing them, including those relating to product manufacturing and packaging.
The report finds that one solution gaining increasing favor among pharma companies is the reliance on third-party providers. Pharmaceutical companies are shifting toward a "network pharma" model.
In this model, a pharma company acquires, through in-licensing, the rights to a product or technology from a third party. Via out-licensing, the company sells the rights to a product or technology to a third party. By turning to outsourcing, the company assigns responsibility for a function, such as manufacturing or packaging, to a third-party contractor. Success in these three areas requires collaboration across the value chain, leaving only core tasks to be handled in-house at the pharma company.
Outsourcing is proving to be a useful tool for pharma companies to manage core product manufacturing and packaging functions, the report says. Outsourcing provides opportunities for time and cost savings, as well as benefits from financial and operational flexibility. However, issues over loss of control, intellectual property, and confidentiality remain concerns for many pharma companies.
The report says product manufacturers can mitigate risk and maximize the value they receive through outsourcing agreements by having a robust screening process, making cost secondary to the contractor's track record and expertise, actively managing the partnership, and leveraging contractors strategically rather than tactically.