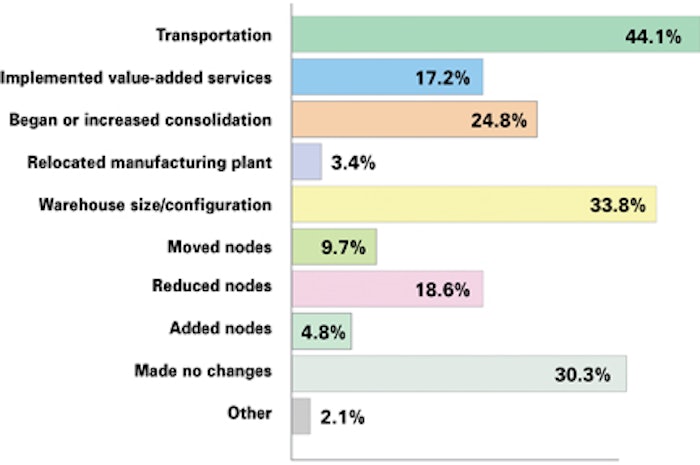 The logistics industry has been coping with economic challenges brought on by the Great Recession. Although economists now say the recession ended in June 2009, many of the related challenges have lingered. For logistics, an increasingly key component of holistic packaging operations, these challenges include reduced consumer demand, excess inventory, price pressures, plant shutdowns, and financial constraints. Consumer packaged goods companies, as a result, have had to re-evaluate their supply chains carefully to identify opportunities to create efficiencies and reduce costs. Distribution networks are essential to supply chain success. With many sectors of the economy still struggling, companies have been examining options for improving the design and management of these networks. Results of a survey conducted in May 2010 by
Saddle Creek Corp
. offer insights into how current economic conditions are affecting distribution networks. The survey generated four significant findings: • A lot of consumer packaged goods companies are changing their supply chain distribution network design. Two-thirds of the respondents said they already have made the changes and nearly 50% plan to make additional changes in the next 12 to 18 months.
• Transportation and warehousing functions are significant drivers to enhancements in distribution networks. In the survey, the top three areas of change for respondents overall included transportation-related changes (44%), warehouse size and/or configuration (34%), and consolidation of shipments from suppliers (25%).
• Notable changes in distribution network management also are occurring in the industry, taking in everything from added or changed vendors to facility size.
• Trends in the industry's distribution network changes and redesign are forcing added requirements upon third-party partners and overall outsourcing patterns. These include real-time tracking, statistical data, and reporting capabilities.
The survey drew 235 responses across industries, from companies ranging in size from $2.5 billion or more (21%) to less than $100 million (23%) in global sales. Food and beverage companies were the most highly represented. Combined, they comprised about 36% of the respondents.
Network design trends
One illustration of the recession's severity: Two thirds of the survey's respondents confirmed they had changed the design of their supply chain distribution network, citing recent economic challenges. Changes most frequently were reported in transportation, warehouse size and configuration, and supplier shipment consolidations (Fig. 1). Nearly one-third (30.3%) have made no significant changes to their supply chain distribution network, primarily because the current network satisfactorily meets their requirements, but other companies have resisted changes for other reasons, such as a lack of viable options or resources. Reflective of the responses as a whole, retailers said that transportation, warehouse size/configuration, and consolidation were leading areas of change. However, retailers made the fewest alterations to their supply chain, with 51.9% having made no changes because of economic conditions. Company size correlated directly with the likelihood of changing a network. Companies with at least $2.5 billion in gross global sales moved distribution nodes most often (22.6%, compared with the overall average of 9.7%) or reduced distribution nodes (38.7%, compared with an overall average of 18.6%). This information is plotted in Fig. 2. Companies with $500 million to $1 billion in sales were the most likely to have changed warehouse size and configuration (50%), and though many organizations made transportation-related changes, companies in the $500 million to $1 billion range were the most likely to do so (62.5%). Firms in the $100 million to $500 million range turned to consolidation most often, although all groups said they had begun or increased consolidation. Those with less than $100 million in sales were much more likely to have implemented value-added services (30.3%, compared with 17.2% overall).
On the whole, the data presented in Fig. 2
suggests that larger companies tended to make deeper organization changes, while smaller companies looked to everyday adjustments that would be easier to implement, Saddle Creek's analysis determined. Changes in transportation, for example, can directly and immediately impact the bottom line, and the ROI for brick-and-mortar changes can take longer to become apparent. When asked which network design changes that they implemented have been most effective, respondents most often mentioned changes in transportation (i.e., modal shifts, renegotiating fuel surcharges, and transportation network restructuring), perhaps recognizing the immediate results. Respondents cited initiatives including transportation routing, negotiating rate changes and fuel surcharges, shipment consolidation, reducing delivery frequency, direct plant shipping initiatives, and increased use of intermodal opportunities. Changes are being made with an eye on balancing customer needs with the bottom line. One survey respondent in retailing noted, "We are managing our ship methods better to ensure customer satisfaction, but doing so in the most cost-effective manner. We've reduced our percentage of revenue on shipping by 1.5%." Saddle Creek also is seeing a shift in customers' approach to their supply chains. "Instead of simply doing things the way they always have, companies are looking for creative solutions to help control costs," says Mike DelBovo, senior vice president, Saddle Creek Transportation. "For example, one manufacturer was regularly shipping between its warehouses coast to coast. By using intermodal instead of truck, they cut costs by 42%."
Warehousing
Some respondents cited changes at the warehouse level as being most valuable to improvements in overall operations. These changes included inventory control improvements, warehouse layout/racking and slotting reconfigurations, small-parcel shipping lines and stations additions, adding a slow-moving section in the distribution center, simplifying warehouse processes, and renegotiating real estate leases. Changes in warehousing can significantly improve the bottom line. One respondent in manufacturing said, "We have worked to better manage our inventory levels, and have been able to reduce the amount of inventory we carry and still meet customer needs. As a result, we have been able to reduce distribution center warehouse space, which has been a cost savings to the company." "We are seeing logistics customers becoming more strategic in how they utilize space and assets," observes Tom Patterson, senior vice president of warehouse operations at Saddle Creek. "As companies reduce and consolidate inventory, they begin to seek out more cost-effective warehousing options." One alternative that many companies are exploring, Patterson says, is shared-space warehousing. In this arrangement a third-party provider manages multiple client operations in a single facility that has room for expansion.
Regional challenges
The majority of survey respondents said they didn't have a specific geographic region that is difficult to service. For those who are facing regional challenges, however, the Western U.S. is the most difficult to serve, from a distribution standpoint, for 14.5% of respondents. The Northwest also is challenging for 9.7% of respondents. Reasons for the challenges varied, but increased costs and delivery time frequently were mentioned. To service different markets or geographic areas, respondents said they are exploring a number of options, most often shifting distribution strategies to improve inventory cycle time (36.6%), as seen in Fig. 3. More changes in distribution practices are expected as the economy continues to recover. When asked about plans for the next 12 to 18 months, 44.8% of the respondents expected to make additional changes, and 30.3% were unsure. Respondents overwhelmingly attributed the need for change to controlling costs. In an open-ended question about factors driving the decision to re-evaluate the distribution network, half of respondents mentioned cost. A number of respondents also noted a need to maintain or improve service levels and address customer demands. Plans for change reflect, for the most part, those that already have been made—transportation (35.2%), warehouse size/configuration (40.7%), and consolidation (20.7%). Companies with more than $2.5 billion in sales expect to make the most sweeping changes, while companies with less than $100 million in sales also appear to be looking closely at every aspect of their operations.
Network management and trends
In the survey, 26.2% of respondents currently outsource logistics services. Companies with $1 billion to $2.5 billion (31.6%) and more than $2.5 billion (41.9%) in sales use outsourcing practices the most. However, many small- to-mid-sized companies also outsource their logistics operations. The scope of the distribution network appears to be a factor. Companies with more extensive distribution networks are more likely to outsource. Respondents who outsource see the biggest benefits of the practice as increased flexibility, cost savings, and convenience (Fig. 4). Priorities vary by company size. For companies with more than $2.5 billion in sales, flexibility and cost savings are most critical. For those with $500 million or less in sales, flexibility is the greatest benefit. Just as supply chain distribution network design has changed as a result of recent economic conditions, so too has the management of distribution networks. Some companies (24.8%) have added or changed vendors, changed the size of facilities (17.9%), increased or begun outsourcing (12.4%), or, conversely, reduced outsourcing (10.3%). To focus on core strengths during these challenging economic times, more than half of all companies that outsource say they have asked for new benefits from their warehousing service provider or 3PL, from a distribution standpoint. Aside from cost reduction, the most common request is for information in the form of real-time tracking, statistical data, and more reporting. In the next 12 to 18 months, 62.1% of respondents expect their distribution management network to remain the same. For those planning changes, more respondents are likely to alter the size of facilities (20.7%) than to add or change vendors (17.2%), while outsourcing plans increase slightly (13.1%).
Companies in this article