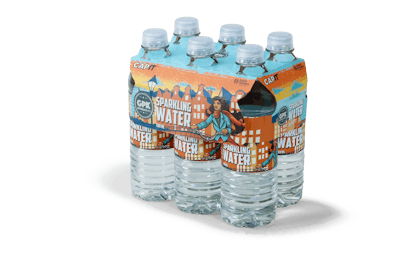 The paperboard clip, made of renewable materials, is an alternative to traditional shrink film packaging, increasing overall pack recyclability to 100%.
"Graphic Packaging's wide range of sustainable paperboard beverage solutions work well with multiple can, glass bottle, and PET bottle configurations," said Roxanne McSpadden, director of marketing and beverage new product development at Graphic Packaging. "Cap-It is our latest innovation for PET bottles that replaces traditional plastic multipack solutions, such as rings and shrink films. With Cap-It, customers are guaranteed a 100 percent recyclable package that aids the circular economy by providing fibers that can circulate multiple times through the recycling chain and become new packaging."
Commonly used to house four- to eight-count bottles, the Cap-It clip uses minimal paperboard while enhancing on-shelf differentiation. Product branding can be consistently viewed in full, from all angles. The unique design provides integrity throughout the suppy chain, and offers a comfortable handling experience for consumers

Companies in this article
Videos from Graphic Packaging Intl.