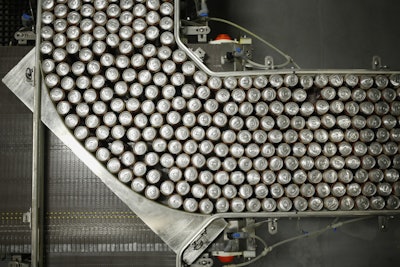 As previously reported in a July Packaging World article, a can shortage brought on by supply chain issues and a change in buying patterns due to COVID-19 has effected product offerings and time-to-market. And according to a new report by Rabobank, demand will continue to grow, and there will continue to be a need for investment to increase supply.
"Quenching North America's Thirst for Cans," points out that PET substitution had for many years caused a flat demand for cans. This trend had started to shift upward over the last two years, brought on by design innovations in the areas of closures, printing capabilities, and can sizes. Consumer preference for smaller portions, convenience, and sustainability were also increasing demand, as was an improvement in services such as mobile canning and smaller off-take in volume that attracted smaller players (think craft brew).
---
See: First Enhanced Water to Pioneer Aluminum Cans
---
In 2019, shipments of beverage cans increased by 3%, rising to about 100 billion cans per year. COVID-19 tipped the up-trend into overdrive with consumer stockpiling and stay-at-home orders that moved social drinking into the home, creating changes to formatting such as kegs to canned beer. The report states, "According to CMI (Can Manufacturers Institute), beverage can demand (volumes) grew an impressive 8.3% YOY in Q1 2020, which is a record growth rate, with non-alcoholic beverage cans leading over alcoholic beverage cans (+9.3% and 6.7%, respectively)."
Ball Corporation, Crown Holdings and Ardagh Group all reported strong demand and sold-out supply in 2020 for Q1 and Q2. Ball said that it expects annual growth of 4% to 6% over the next five to seven years, and Crown expects shipments of beverage cans in North America to increase by 10% during 2020. Ardagh reports a 20% increase in specialty cans in the region.
---
See: Multipacking Applicator Maximizes Can Output for On-Trend Mixed Drink Producer
---
While previous flat market conditions caused the closure of 15 North American plants between 2015 and 2019, there is now new investment activity – particularly for beverage cans – with many plants expanding productions lines and four new plants that are expected to be operational by 2021. These new plants will add approximately 8.3 billion units of beverage can capacity.
A new entrant to the North American market is CANPACK Group. A Polished-based company with 33 plants across Europe, North Africa, Middle East, Asia and Latin America, CANPACK is building a plant with a 1 billion can capacity (with room to expand to 3 billion cans) in Olyphant, PA which is expected to be operational in 2021. CANPACK's entry, while sizeable, is not expected to saturate the market. The report suggests that "it would be wise to critically monitor demand developments in the coming 12 to 18 months before making further sizeable investment decisions," but also says that under the most optimistic demand scenario, there may be room for the equivalent of up to 25 additional 'CANPACK-size' plants in the market.
Companies in this article