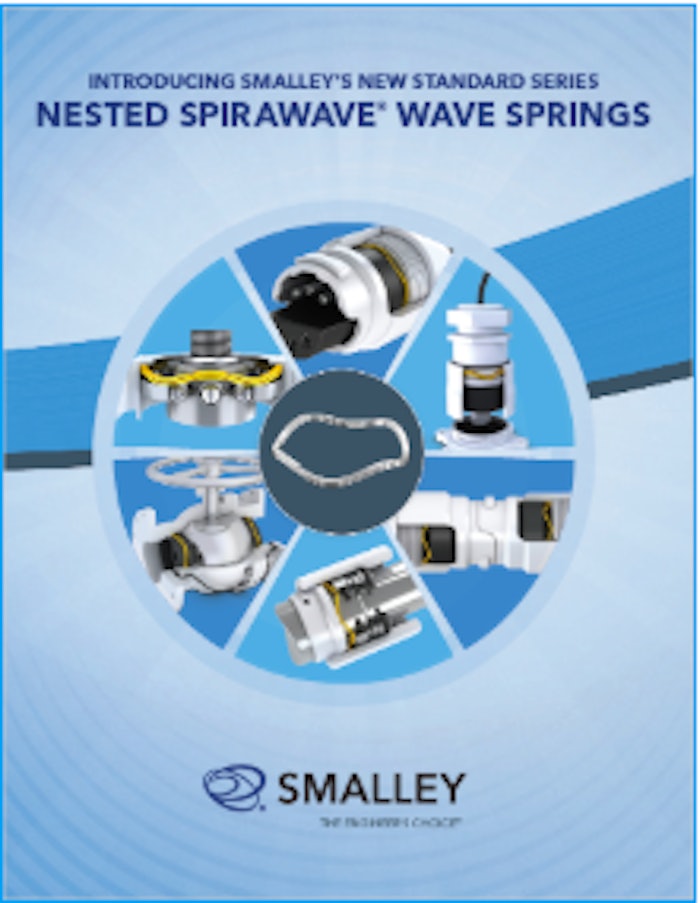 Smalley, a manufacturer of retaining rings, constant section rings, and wave springs and more,  has released its Nested Spirawave Wave Springs series. Smalley has been producing nested wave springs as customs for over 30 years, but this will mark the first standard series on the market.
These multiple turn, flat wire wave springs are designed to coil in parallel to produce two to three times as much force as traditional single-turn wave springs. Nested Spirawave springs are meant to replace stacks of single-turn springs, eliminating misalignment and inconsistent loading.
The design is made to be sturdy and tangle-resistant so that it can allow for simple, time saving automated handling, which should simplify the assembly process and reduce costs.
"Introducing a standard line of nested springs gives customers the ability to streamline production while meeting their high force requirements," says Dan Frank, Research and Development Engineer.
Standard Nested Spirawave springs are available from .500 to 4" or 16 to 3000 mm in carbon and stainless steel. Custom nested springs are also available and stock parts can be shipped overnight.
Nested Spirawave springs are designed and specified for multiple applications including heavy duty bearing preload, connectors, valves, and seals. With the increased forces the springs should produce, they are made for industries that require precision wave springs with high loads.
Copies of the brochure or a free Nested Spirawave Wave Spring sample can be requested here.
Companies in this article