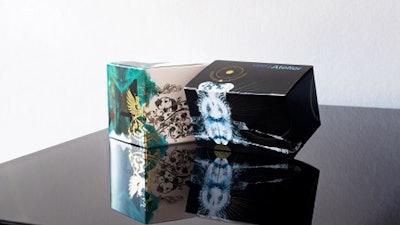 The special feature of the GC1 board is the combination of visual and physical features. Atelier combines a large specific volume with a high stiffness, as well as a high surface quality with a unique 100-percent brightness.
In order to increase the advertising effectiveness of their products, brand owners develop packaging that appeals to all of their potential buyers' senses. With Atelier, Sappi is offering its customers a folding boxboard (GC1) that opens up all-new possibilities in packaging design. It distinguishes itself with maximum whiteness and purity, as well as a high print gloss, combined with a silky-matt feel and appearance. The finishing properties are manifold: whether film lamination, cold foil transfer, UV varnishing or flocking – anything is feasible. Atelier can be printed using offset, flexographic, or screen methods.
With its embossing properties, Atelier further increases the designer's ability to create enhanced optical and tactile packaging experiences. Furthermore, as is usual for Sappi products, we don't just focus on the principle surface, Atelier's reverse side quality is particularly impressive as well. This means that the paperboard can also be effectively printed and finished on the reverse side. With this folding box board, branded products can be presented with high impact at the point of sale. Atelier's strengths are especially evident in the area of so-called premium packaging for perfume, cosmetics, beauty care, skin care, fashion, high-quality confectionery and praline products. Its versatility also makes it ideal to take on challenging graphic applications.
"In order to be able to offer our customers this new, premium quality white back folding boxboard, we have converted our PM6 paper machine in Maastricht. Our multi-million-euro investment has resulted in a globally unique and truly innovative production process," says Lars Scheidweiler, Product Group Manager Paperboard at Sappi Europe, explaining the journey towards the product launch. "This means we are now in a position to produce a premium folding boxboard."
Companies in this article