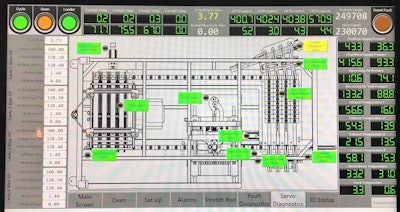 "For custom blow molders, the next-generation four-cavity machine provides versatility to enable PET bottle production in a range of configurations and sizes," said Heidi Amsler, sales and marketing manager for W. Amsler.
The L42X reheat machine has four parallel heating ovens, one for each cavity. It comes equipped with 12 Bosch-Rexroth servo motors, compared to three servos for the previous model. The extra servos provide more repeatability, lower energy consumption, and require less wiring, resulting in easier troubleshooting, according to W. Amsler. The machine also has a 40-ton servo-driven mold clamping system. Servo systems are used to control preform loading, preform transportation through the machine, rotation through the ovens, stretch rod actuation, motion towards the molding station and clamp opening, closing, and bottle unloading.
Other key features include agitated preform infeed to prevent bridging, preform temperature sensing prior to blow, pre-blow flow control for each cavity, water-cooled neck shields, and a large touchscreen operator interface. Servo-driven stretch rods are 14 mm with 10 mm and 12 mm options.
The L42X comes equipped with a large touchscreen operator panel from Wonderware. It has a Windows-based human machine interface (HMI) with full access to assembly drawings, bills of materials (BOMs), set-up guides, troubleshooting, and training videos.
Companies in this article