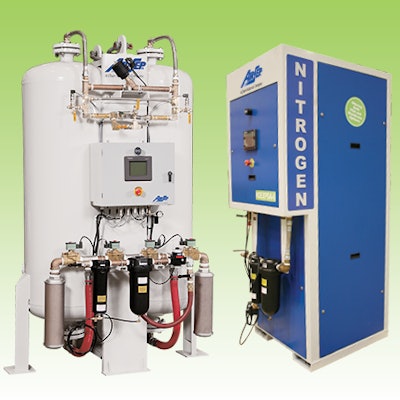 AirSep now offers stationary two-bed Standard PSA Nitrogen Generators, Modular Membrane-based, and PSA Nitrogen Generators in an expandable, cabinet-mounted configuration, as well as containerized, shipboard options. Self-contained and turnkey cylinder refilling systems are also available.
AirSep Membrane and PSA Nitrogen Systems produce nitrogen from an independent compressed air source. All of AirSep's Standard PSA Nitrogen Generator models are equipped with a NEMA 4 HMI, color touchscreen control panel with an integrated oxygen monitor, offering control and monitoring flexibility. The touchscreen features diagnostic capabilities and Ethernet access for remote monitoring of process parameters. Other highlights include, alarm notifications via email, data logging, and automatic recovery.
AirSep will target the major markets such as oil and gas/power generation, food/beverage packaging, and several others.
Companies in this article