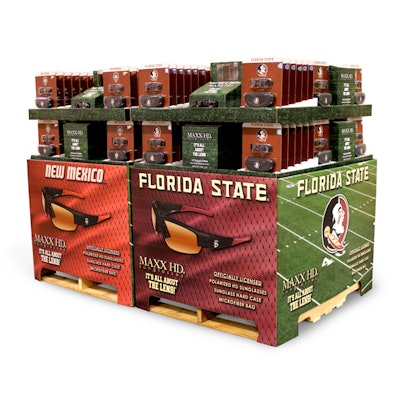 Bennett introduced a pallet skirt promotion to other corrugate converters in response to the increased discussion of digital printing for retail packaging and displays.
Bennett invested in a 6-color, production-speed, single-pass direct-to-digital printer from Barberan in 2015. Since the printer's installation, testing and experimentation with color matching and board has been completed to optimize the output.
"This learning can now be shared with others in the industry that are either considering the purchase of digital printing equipment, or have clients that are asking about digital printing options," says Robert Sweet, VP of sales.
A Welch's pallet skirt, produced by Bennett, was recently recognized in the packagePRINTING Excellence Awards with a second place overall in the "Best in Show" category. One of the competition judges stated: "The deep purple, life-like grapes had incredible detail in the graphics. Direct to corrugated digital is so new, it is amazing to see this level of print quality." Bennett also walked away with first, second, and third place awards in the "Corrugated Digital Print" category.
Bennett's clients are experiencing higher print quality and an increased speed-to-market, according to the company. The users also have creative flexibility for regional messaging or testing, and there is a reduction in raw materials by taking out the litho-labels from the project.
Companies in this article