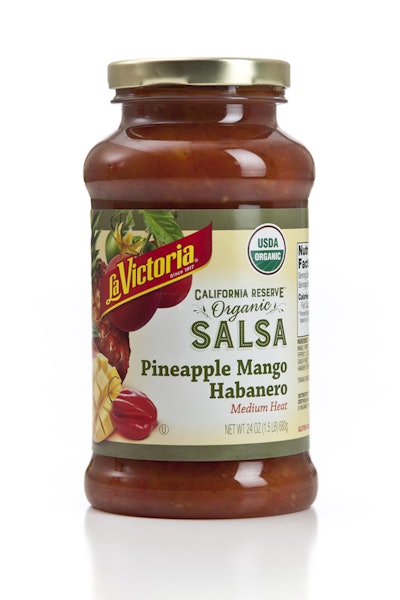 Amcor Rigid Plastics, a manufacturer of rigid plastic packaging for food, beverage, spirits, home/personal care, and healthcare industries, debuted the first commercial use of its APEX hot-fill PET containers with metal lug closures. Mexican food supplier MegaMex Foods, LLC, an Orange, Calif.-based joint venture of Hormel Foods and Herdez del Fuerte, S.A. de CV, launched its new La Victoria organic salsa product in 24-ounce APEX PET containers at Costco's San Francisco Bay area stores in northern California and in Nevada.
The launch of the USDA-certified organic La Victoria pineapple, mango, and habanero salsa in a 24-ounce PET container is a first for the brand, according to Stephanie Bloch, brand manager for MegaMex Foods.
"Since Costco has been at the forefront of trend-setting packaging developments, we thought it made sense to test our latest La Victoria brand salsa in a 24-ounce PET container at the club store level," Bloch says.
PET is an ideal option for retailers and consumers because it mimics glass yet offers lighter weight and improved sustainability advantages over glass. Amcor's APEX technology allows metal lug closures to be used with blow molded 24-ounce hot-fill containers. Consumers who are familiar with the look and quality feel of a glass jar with a metal lug closure can now enjoy the same quality and reassurance of the fresh "pop" of a metal lug closure on a lightweight, shatter-proof PET jar. Featuring an improved barrier system, the APEX system ensures that sealing integrity is maintained and meets the industry average for removal torque (ease of opening). Brand owners like MegaMex Foods can also maintain the same brand equity with the switch from glass to PET.
From a co-packer's standpoint, APEX PET adds value at minimal risk of breakage, according to Sergio Macias, director of procurement for Olam SVI, a contract filler in Fresno, Calif.
"APEX is a game-changing development, which firmly positions PET hot-fill containers in the food packaging industry," says Bunlim Ly, senior marketing manager for Amcor Rigid Plastics. "We've filled an important need for consumers and brand owners who seek the benefits of PET containers with metal lug closures, delivering the same quality and freshness associated with glass along with significant performance, manufacturing and sustainability benefits."
The 24-ounce stock hot-fill containers, targeted for food applications such as jams, jellies, salsas, apple sauce, and pasta sauce, are a drop-in solution for manufacturers, providing reduced total cost of ownership and environmental benefits such as reduced carbon footprint, according to Amcor. The company says that a shift to APEX PET containers requires minimal capital investment and can be adapted to existing capping and filling equipment.
The La Victoria salsa container is hot fillable up to 205°F (96°C) and features a 63-mm. finish with a functional "pop" tamper-evident indicator button on the closure. Key sustainability benefits are a 36% energy savings and a reduction of 4,462,156 lbs. of CO2 emissions, which is equivalent to electricity use of 278 homes for one year. Compared to the glass container, the PET container results in an 85% material reduction per jar. The weight reduction results in transportation cost benefits including the shipment of 30% more product by weight per truck.
Companies in this article