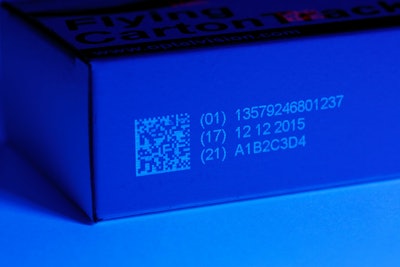 Packages, bottles, and certain products may require discrete codes and brand information that can be tracked through the supply chain. Fluorescing UV ink is only visible under UV lighting, and can be an unobtrusive solution for markets that require product traceability.
With more than 40 years of ink development experience, Videojet Technologies Inc., a global supplier of coding, marking, and printing solutions, has launched an innovative new UV fluorescing ink designed to deliver crisp codes on the packaging of high-end cosmetics, pharmaceuticals, and other consumer goods.
The new ink is colorless in normal light and fluoresces blue under a black light. With its MEK solvent base, the ink offers very good adhesion to a variety of substrates including coated cartons or glossy labels, vial caps and closures, and dark substrates where a bar code is needed.
"This ink was initially developed for the pharmaceutical market; however, it is also suited to a variety of other applications including retort processed food containers and cosmetic packaging," Says Heidi Wright, business unit manager, TIJ & TTO, at Videojet.
The clear, UV fluorescing ink is suitable for GS1-DataMatrix and other 2D codes, and is resistant to the autoclave process. This ink offers a 2-3 second dry time on non-porous materials such as ABS, HDPE, PET, PVC and nylon, and delivers great adhesion versatility on a wide range of substrates.
This ink is for use in the Videojet 8610 TIJ printer, which utilizes a revolutionary, purpose-built cartridge designed to use MEK fluids. The 8610 TIJ printer is ideal for applications that require crisp, repeatable codes on foils, films, plastics and coated stocks, and provides print resolutions up to four times greater than continuous inkjet (CIJ) printing.
Companies in this article