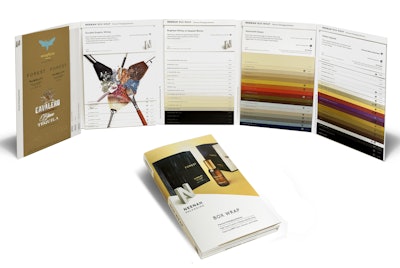 Together, these two expansive collections create an elevated line of packaging papers for national and multi-national retail, beauty, alcohol, electronics and entertainment media brands.
"This expansion has elevated our box wrap offering to the level where we can address key end users who are looking for differentiated packaging solutions, from mid-range to premium, and up to the most luxurious decorative papers. The breadth of this offering, and the custom opportunities now available — from the largest range of whites and durable graphic papers, to the feel of nubuck leather, and high-end exotic finishes — are unmatched in the marketplace," said Mark Sng, Director of Marketing, Neenah Packaging.
The ability to create custom packaging solutions is the cornerstone of Neenah's new Box Wrap portfolio. The portfolio now offers a broad range of standard color palettes, an impressive array of whites and neutrals, and an extensive library of embossing options. And, beyond that, lies Neenah's newly advanced custom capabilities — creating endless possibilities for designers and brand owners.
"The value of our custom capabilities is immense for brands looking to create unique, one-of-a-kind at shelf recognition with a color, texture, finish combination designed specifically for that brand. Or, for global brands with a need to maintain color and texture consistency across all packaging pieces, no matter what country the converting is being done in, we can provide assurance with custom box wrap papers," said Sng.
The two portfolios are overviewed in a new, two-book specification program, each showcasing the breadth and range of the line. "We consider these tools a springboard for every designer and brand manager's imagination. Open these books to understand just how endless the possibilities are," said Sng.
Neenah Packaging Box Wrap Premium Packaging Solutions
An already expansive portfolio, Neenah Packaging has added 26 new items including offset-printable, uncoated and lightweight C1S premium box wrap papers with a wide variety of whites, colors, and environmental papers.
Neenah Packaging Box Wrap Luxury Packaging Solutions
This collection of one-of-a-kind papers exudes luxury with every look and touch.
From realistic metal-like finishes, to plush textures, to authentic-looking fine leathers and high-end exotic skins, Neenah Packaging Luxury Box Wrap offers endless combinations. This collection is about building a unique design. Start with color, select an embossed texture, and further enhance the visual with a print pattern and/or specialty finish. Or, go beyond the offerings presented in the book, and work with Neenah Packaging to create a custom color or design solution.
Companies in this article