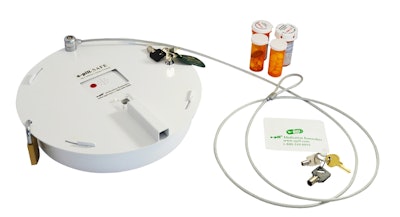 e-pill Medication Reminders has released an improved tamper-proof automatic pill dispenser. The e-pill MedTime Safe provides extra safeguards to guarantee that the patient has access to the right medicine, at the right time, and at the right dosage and can securely administer medications up to six times per day.
The e-pill Medication Reminder is designed to be used in medication-assisted maintenance treatment programs to safely administer oral buprenorphine or oral methadone in the patient's own home.
In addition to helping patients who face the challenges of prescription drug addiction, the e-pill MedTime Safe helps patients who have a problem taking more pills than are prescribed. This new locked e-pill dispenser only gives the patient access to their medications when they are due. This allows the patient to continue to go to work or school while taking their medications as prescribed without a daily visit to a clinic or the risk of taking too much medication.
The e-pill MedTime Safe is specially designed to prevent the patient as well as others in the household from accessing medications that are not scheduled to be dispensed at that time. Metal construction, four independent locks, and double walls provide multiple levels of security. The automatic pill dispenser itself has a lock for the pharmacist, two independent locks on the metal case operated by the clinic nurse, and a fourth lock allowing the patient to secure the e-pill MedTime Safe to a certain location in their own home.
Companies in this article