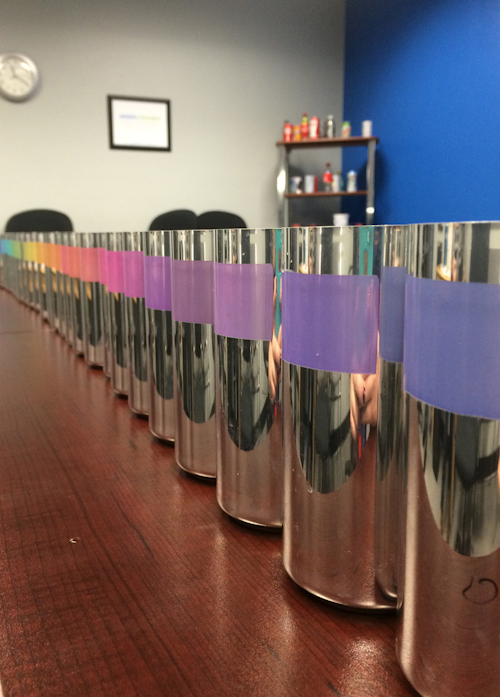 Chromatic Technologies Inc. (CTI), the specialty inks company whose ideas are "powered by chemistry," has broadened the availability of colors used in the thermochromic (heat-sensitive) applications for metal can decorating. The achievement follows the company's March 2015 announcement that a similar expansion of colors is now available for CTI's new PowerCapsules for the plastics industry.
As a result, hundreds of new colors for thermochromic metal decoration are now available thanks to CTI's proprietary new red and yellow thermochromic inks that enable a new sophistication in color management.
The variety of colors for cans takes the original 'blue' ink offering from CTI and, because of this expansion in its primary color palette, CTI is now able to offer a much wider color spectrum.
The new, advanced color pallet will use CTI's proprietary High Velocity Ink (HVI) delivery system to ensure all inks can be applied efficiently at high speed and are durable against heat and sunlight. HVI was achieved following three years of research and development at CTI. The key advantages of HVI are: 1) much smaller particle inks, thus enabling them to be run at higher speeds; and 2) HVI result in less waste while producing higher yields (wherein one pound of ink prints more cans). All of CTI's thermochromic inks ascend to the high velocity capability.
"Every brand can now create its own unique fingerprint in thermochromic color and design," explains Patrick Edson, chief marketing officer for CTI. "We seek to help every brand create differentiation and 'theater-in-the-hand' experience every time the consumer touches the product. CTI is 'not just an inks company' but an innovator who helps grow and differentiate brands."
Companies in this article