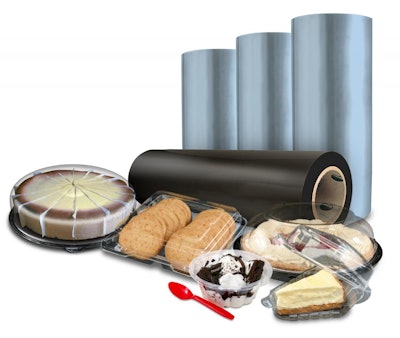 Clear Lam Packaging, Inc. introduces a new freezer grade rollstock made from Recycled Polyethylene Terephthlate (RPET). The proprietary product line is designed to perform in tough frozen applications and exhibit high tolerances to processing techniques, such as blast freezing, while optimizing performance requirements throughout the product's life cycle. New product offerings include Form PET 512™ and Form PET 513™ and are available in clear, black, and custom color pigments.
Clear Lam's new RPET freezer grade rollstock incorporates compounded additives produced by Clear Lam's subsidiary, CL Polymers. The rollstock is designed for industrial thermoforming lines and for packaging produced on form fill seal (FFS) equipment. Blending the compounded additives with the virgin PET resin and RPET flake, which is made primarily from recycled PET bottles, improves the overall impact strength of the finished containers.
As a result, the rollstock is lightweight, strong and performs in temperatures ranging from -40 degrees F to 165 degrees F without compromising quality. The material's improved performance in sub-zero temperatures resists cracking, providing a more attractive package that maintains its integrity.
As frozen food technology processing and packaging trends continue to evolve, Clear Lam Packaging will work closely with customers to establish the necessary performance characteristics for frozen food applications across multiple categories, such as frozen ready meals, pizza, snacks, entrees, ice cream and desserts.
Companies in this article