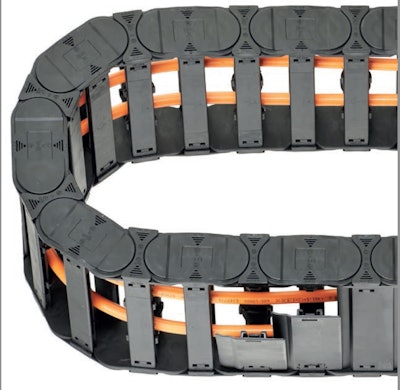 Suitable for a wide range of industrial applications such as machine tools and robotic handling systems, the E4-1 features an easy-to-open, double-lock design, which allows the cable carrier to be opened and closed using a flathead screwdriver. The lids can be removed from both sides of the carrier and are hinged on the outer radius for fast cable installation. The cable carrier's smooth interior combined with numerous cable separation options prevents cable damage, and helps ensure the cables remain secure while the carrier is in motion.
Contact noise is greatly reduced thanks to a unique, integrated brake function on the cable carrier's radial stop-dogs. Rolling noise is also lessened because of the small pitch of the cable carrier. In addition, noise-dampening side plates and rubber profiles for guide troughs can be used to further reduce noise generation.
With E4-1, tight tolerances can be achieved even in extremely demanding applications. The pin-and-bore connections enable the absorption of high push-pull forces that can occur over long travel distances. Cable carrier wear is kept to a minimum because the large connections distribute forces over a significant surface area.
E4-1 is available in both an open or closed design for hot chip areas. igus also offers a comprehensive line of Chainflex continuous-flex cables for use in Energy Chain cable carriers.
Companies in this article