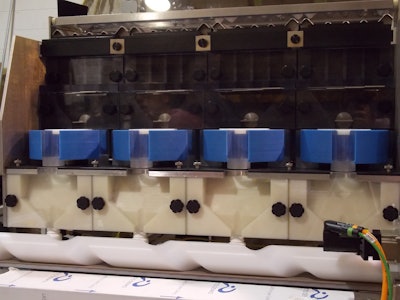 Packaging Efficiency Solutions is introducing a tablet counter capable of handling tablets or capsules in a variety of shapes and textures. The three point inspection system of the PES-100 Electronic Tablet Counter ensures an exact product count prior to filling. The B&R PP500 with AR Windows provides a single interface to our vision inspection system for detecting foreign color and objects, and our check weighing system for guaranteeing an accurate weight before filling .Our 3D sensing array, which verifies a precise count, is connecting to the B&R X20 IO with POWERLINK Communications. This enables the machine to analyze data at speeds up to 400 microseconds, which is the fastest on the market. B&R Automation Studio software also allows us the flexibility to run servos, steppers, and AC motors. The software allows us to control multiple different motion types and coordinate motion between axes through a single interface. This limits our costs and decreases our time to the market. It also reduces our overhead for programming and hardware costs.
The patent pending turret design of the PES-100 is another exciting feature. Cofounder Bryan Smith says, "We are excited about this unique turret design because it allows for continuous motion filling and continuous product output, which helps increase productivity". Change parts are easily removed for cleaning and can be changed quickly to accommodate different products and bottle shapes. Effortless changeover with the tablet counter decreases downtime, and further increases the overall return on investment. Also, no air is involved in the process whatsoever, thereby reducing utility cost and reducing the overall ecological footprint.
Created in 2012, Packaging Efficiency Solutions is founded by pharmaceutical packaging veterans Andrew and Bryan Smith, who bring with them a wealth of knowledge and contacts. Partnered with several other industry leaders, P.E.S. is looking to become a mainstay of the pharmaceutical packaging industry.
For more information on the tablet counter and the full line of products and services offered by P.E.S., please visit www.packagingefficiency.com. Also, stay current with the company by visiting its Twitter, YouTube, and Facebook pages.  Information on B&R automation components is available on their website, www.br-automation.com.
Visit Packaging Efficiency Solutions to see the tablet counter at PACK EXPO booth 605 in the Central Hall.
www.packagingefficiency.com
Companies in this article