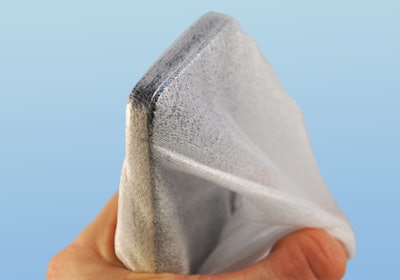 The latest addition to the company's Microfoam line, Stretchfoam is said to provide a 10% yield increase compared to other sheet foams, making it a cost-effective protective packaging solution.
"Soft to the touch" Stretchfoam, suitable for wrapping, surface protection, or interleaving applications, provides multidirectional stretch which resists tearing or "zippering," making it useful around products with irregular edges.
Stretchfoam also offers the same high coefficient of friction (COF) long associated with the Microfoam line. This means that the sheet foam clings to the item it is protecting. (Low COF materials slide back and forth increasing the chance that sensitive product finishes will be subjected to abrasion.) No curing agents are used so there is no grease transfer to the part it protects.
Microfoam's good compression strength also enables reuse, extending shelf-life to more than one trip. Additionally, lightweight Stretchfoam positively impacts shipping costs and handling ergonomics. 
Available in 1/16- and 1/32-in. thick stock sizes in 48-, 60- and 72-in. roll widths. Custom options also are available.
Companies in this article