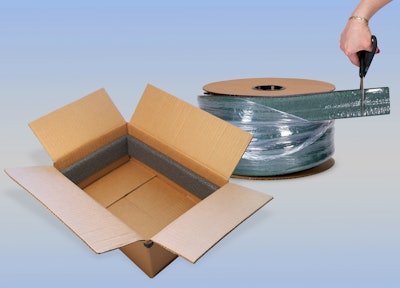 Packers can quickly cut Form-It to the desired length from the roll, peel off the release liner to expose the adhesive and affix into position—typically on the inside of a corrugated container or carton which is used to transport the product.  Form-It foam strips are suitable for blocking and bracing or to create custom dividers, U-channels, L-shapes, pockets, and more.
Form-It can be trimmed in any way to allow customized protection. The affordable, customization option helps decrease fabrication and design costs.
Form-It foam strips are available in three thicknesses (3/8-, 1/2-, and 3/4-in.) to meet light, medium and heavy-duty protective packaging requirements.  The 2.3-in. tall material is delivered on 40-, 50- and 55-ft. reels (depending on thickness) and offers excellent load bearing, insulation, and impact absorption.  Additionally, rolls take up less inventory space than custom fabrications.
Companies in this article