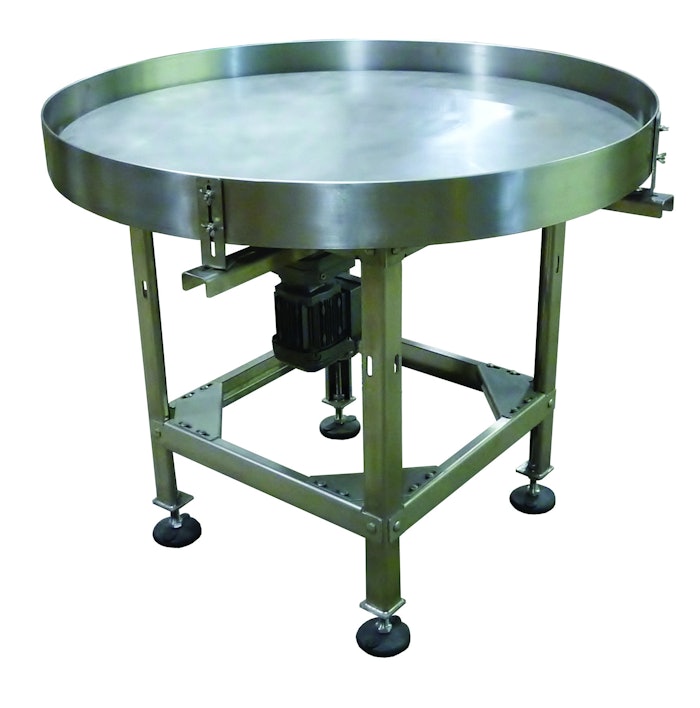 With its sorting, accumulation and directional change capabilities, this sanitary turntable is ideal for the pharmaceutical, food manufacturing, bottling and canning industries.
Eaglestone Inc. is a custom design and manufacturing company specializing in equipment for safe food processing and packaging. Their Series 1600 Washdown Turntable is manufactured in the USA using 304 stainless steel, and this long-lasting machine was specifically designed for food and pharmaceutical-safe applications. It features extremely quiet operation, is quickly and easily cleaned and has a low operating cost.
"Though we're best known for our custom conveyors and equipment, we developed the Series 1600 Turntable based on requests from our customers," explained Carmen Sammauro, President of Eaglestone.
The Series 1600 can be customized for industry-specific needs. Options include Nema 4X variable frequency washdown drives, a plastic or domed top, a stainless motor and reducer, UHMW-PE side guides and stainless steel casters. Complete customization is possible with specified cut-outs on the outer rail, side tables, in-feed chutes, diverters and conveyor tie-ins.
 
Companies in this article