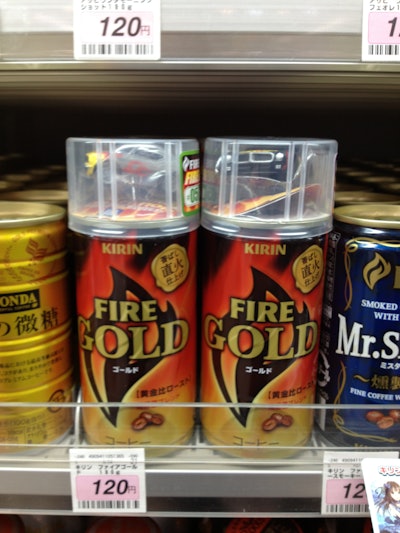 Would you like a toy with your coffee? You can get it as a premium attached to a can of Kirin-Fire Gold brand coffee from Kirin Beverage Co., Tokyo, found in a Lawson's convenience store in Nagoya, Japan, for ¥120/USD $1.50. Rather than wrapped and attached as with most premiums, the finely detailed model car is housed inside a clear rigid polymer "overcap" that's friction-fit to the top of the slim, brightly printed 190-mL can. The cap has an applied pressure-sensitive label promoting the specific model inside.
A printed disc under the car, which is secured with semi-rigid plastic within the cap, reveals a folded paper printed with addition details about the model and the six-car lineup in the series. Reportedly, this line of model car premiums is found only at Lawson's.
Sources also indicate that this is the latest in a series of model automobile offerings from the brand since around 2008. While previous cars in the series have included a Lamborghini, we saw samples of two American classics—the 1963 Chevy Impala and the 1972 Pontiac Firebird. This begs the question: Do these premiums help drive sales?