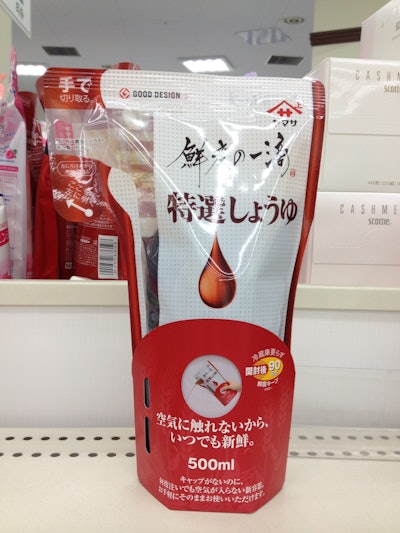 Seen at a grocery store in Tokyo, Japan, Yamasa's 500-mL soy sauce in a stand-up pouch is, from top to bottom, one innovative package.
For starters, the pouch claims source reduction, using one-third less polymer than an equivalent PET bottle. Another unique feature is a paperboard-sleeve base that is held during use and provides stability to permit the pouch to stand up on shelf and at home. The sleeve's bold color as a half-package-size billboard helps distinguish the variety and offers cutouts that permit consumers to see how much product remains.
However, it's the dispensing spout that makes this stand-up pouch truly stand out. A perforated area near the pouch spout is removed to expose the spout inside; the spout itself has a tear-off tab to allow product dispensing. The simple two-step process is explained through graphics printed on the back of the spout area.
The self-sealing spout prevents spillage and allows carefully controlled dispensing using the company's "drop of freshness" design that also keeps the remaining contents fresh—and in particular helps retain the soy sauce's pleasing dark golden color—for three months in use without refrigeration.
The company Web site offers an explanatory consumer-directed video on the use of the pouch. And in other video, a company manager explains the package. Note: For the latter, it is extremely helpful to know Japanese.
The soy sauce appears to be available in four varieties, including a full flavor and a 50% sodium version, and was selling for 238¥/USD $3.03 at the grocery store.

Yamasa has also introduced a line of associated soy products in 200-mL opaque pouches constructed of polymer film and what it refers to as an "eco-paper bag," resulting in the use of 75% less plastic versus comparably sized all-polymer pouches. The rigidity of the smaller version eliminates the need for a separate paperboard sleeve.