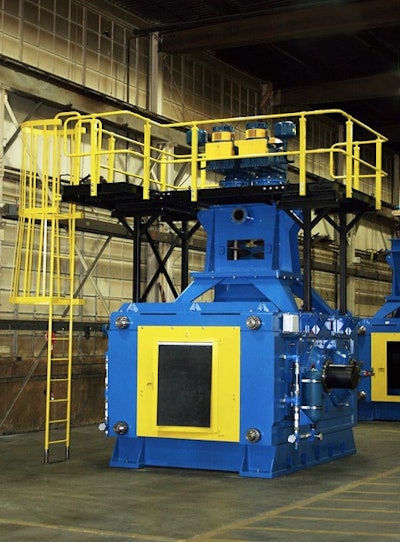 Industrial steel work platforms—mezzanines--are precision fabricated from structural steel components that are assembled using secure bolt-together connections.  Mezzanines optimize the available space within a facility and can be dismantled, relocated, and even expanded when production requirements change or businesses grow.  Platforms include safety railing for personnel and a 4-in. high kick-plate all around to protect tools or materials from falling off. Stairways, vertical caged ladders, and safety ladder access gates are also available to protect personnel.
The MezzCrane is a hybrid system that combines the strength and utility of a mezzanine work platform with the agility and flexibility of a 3-axis enclosed track traveling bridge crane, with jib crane option.  MezzCrane systems are available in five different configurations.
Efficient vertical movement of palletized materials or carts between levels is achieved with Wildeck VRCs (Vertical Reciprocation Conveyors).  While work areas, facility equipment and walkways can be protected with Wilgard Guardrail, which are constructed of high-strength steel and have a durable bright safety yellow paint finish for high visibility.  They are designed to protect personnel and equipment from a severe 13,000-lb. PIV impact (forklift, etc.) traveling at speeds up to 4 mph. 

Machinery and material storage areas can be safely accessed with safety locking Rolastair Rolling Ladders, Machine Stands, Work Platforms, Conveyor Crossovers, Stairway systems, Stockpicker carts, tote dollies, JiffyRail railing and gates, and other high access products, available from Ladder Industries, Wildeck's subsidiary. 
Products comply with applicable codes and OSHA safety requirements--all at reduced cost when compared to new construction. 
Companies in this article