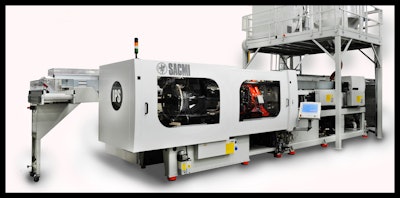 The 48-cavity IPS model comes with a clamping force of 220 tons.  A more powerful 300-ton model housing 72 cavities is in development.  Simplified user interface makes the machine easy to manage and minimizes worker training times: all the operator has to do is enter the preform geometry data.
During the ejection phase, a robot--fully integrated on the machine--picks up the preforms with a 3-station gripper to allow post-cooling prior to unloading. The linear motor that drives the gripper allows recovery of braking energy during the deceleration phase, ensuring reduced energy consumption in addition to precision, speed and repeatability of movement.
Extremely short cycle times are achieved thanks to plant optimization, digital servo-valves fitted near the actuators, and a machine design optimized to make press opening-clamping even more efficient. The toggle system and mobile platen that make up the mold clamping unit are hydraulically controlled and have been designed using FEM structural analysis to optimize mechanical inertia while ensuring mechanical strength. This guarantees ultra-fast lock-to-lock, times, cutting the preform cycle time further.
The preform ejection system is controlled by two hydraulic cylinders that optimize ejection force and ensure considerable energy savings. The pump-controlled cooling system, fitted directly on the rear of the machine features control software that guarantees homogeneous water temperature at every stage of the process.
The injection unit consists of a cylinder with a plasticizing screw, guided by an electric motor, and a shooting pot, controlled by a servo-valve. The mold zone makes ultra-rapid size changeovers possible, and a special system helps guarantee correct positioning of the mold, which "hooks on" automatically, while the overall time needed for mechanical changeover of the mold – including automatic plate offloading – is less than an hour.
Companies in this article