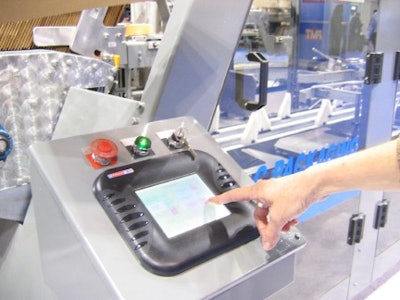 New features on machinery from
A-B-C Packaging Machinery Corp.
(www.abcpackaging.com) played into one of the major trends at Pack Expo 2008: faster changeovers. The company's new Model 206 case packer, Model 330HS case erector, and Model 75 palletizer all feature automatic changeovers. The case packer and case erector adjustments are powered by motor/counter drives and easily done through the human-machine interface.
The HMI-prompted, motor-driven changeovers are now a standard feature on the Model 206 case packer (shown below), which utilizes dynamic servo operation to ensure top precision and accuracy at speeds to 30 cases per minute. Efficient servomotors control the main case drive, infeed, down stacker, and load pusher, ensuring precise case and product movement and gentle handling throughout the machine. PLC operations provides integral synchronization of all moving parts and smooth performance.
Changeover details
This feature virtually eliminates operator bias, error and tweaking, and can reduce downtime for changeover to less than 10 minutes. The changeover process is simple: After clearing and stopping the machine, the operator opens the guard doors and removes five or six change parts which are secured with locking handles…no tools are required. Then the operator returns to the control panel and using the color touchscreen, acknowledges that each illustrated change part has been removed (see touchscreen image below).
If the operator is unsure of the part, a second menu can be selected and an illustration is displayed that shows the part. The operator then selects
Confirm
and the machine automatically adjusts to the new product size selected. The operator installs the new size change parts and the machine is ready to return to operation.
A-B-C's Model 75 palletizer changeover is done at the HMI from preprogrammed settings, and automatic changeover is accomplished with the optional pneumatic layer squaring device; no change parts are required.
Companies in this article