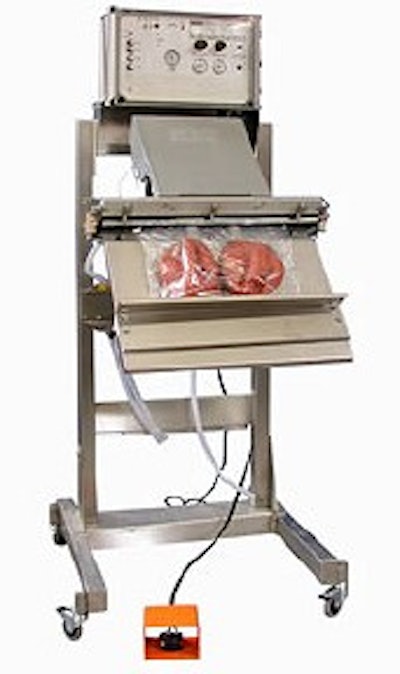 This USDA approved stainless steel vacuum/gas flush sealing machine is designed for vacuum or modified atmosphere packaging (MAP) of fresh foods such as produce, poultry, nuts, meat, baked goods, spices and pasta.
Controls:
Electronic vacuum controls for vacuum, seal and cool are mounted in a watertight box above the seal head.
Nozzles:
Wide stainless steel profiled nozzles facilitate faster air removal and allow easy entry into and out of bags.
Seal Head:
Adjustable sealing head with three position height adjustment, as well as movement from a horizontal to a vertical position, for more convenient ergonomic operation.
Safety:
Jaw safety release system automatically releases jaws when an object is sensed between them.
Vacuum System:
A quiet, high flow Venturi for efficient vacuum operation.
Foot Switch:
A pneumatically controlled and watertight foot switch allows operator to initiate vacuum cycle.
Cleaning System:
Valuable when using wet products. System includes easily removable nozzles, special pass through Venturi vacuum pumps and food trap with automatic evacuation at end of each cycle. Vacuum line can be back flushed with chlorine or other cleaning agent (Optional).
Frame:
Stainless steel frame with with rear wheels for easy station-to-station mobility.
Available Options Include:
• Multistage Vacuum Gas System to minimize residual oxygen to lower levels.
• Bag Trim Wire trims the bag above the seal for a neat and finished look
• Stainless Steel Workshelf is fully adjustable and provides additional workspace for greater operator efficiency.
• Longer Seal Jaws to accomodate wider bags.
• Bag Stretcher Device smoothes out the seal area to ensure consistently strong airtight seals.
• Twin 1/8" Wide Seals allow bag to be double-sealed.
• Additional Nozzles for processing multiple bags at one time.
Companies in this article