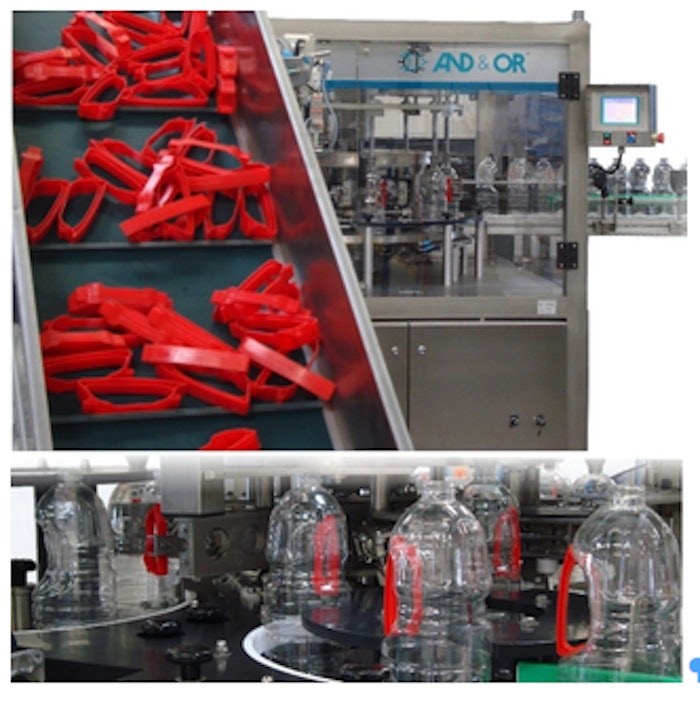 Through its long experience and having the widest range of products in the market, And&Or provides solutions for all its clients' production needs. And&Or applicators were developed with specialized technology allowing the automatic insertion of different types of handles. They are adaptive for low, medium or high-speed lines, with different sort of operation: rotary, interval linear or continuous linear.
The use of And&Or's handle application technology benefits and enables the manufacturing of a handy and easy carry handle-ware PET large container (96 oz – 1 gal) with either a lateral, neck, or umbrella type handle. Traditionally the move from the classic HDPE handle-ware to a more attractive PET handle-ware container has been challenging, partly because of the unavailability of precise and specialized handle application technology.
And&Or also offers a wide range of handle insertion machine systems, approaching "state of the art premium application technology" to those bottlers and bottle manufacturers willing to thrive and transition to PET handle-ware containers. Products traditionally packed in 1 gal handle-ware HDPE size bottles might soon transition to PET, and And&Or is there to support the market needs for handle insert technologies and innovation.
In this growing market demand And&Or's presence does not only stand for approaching application technology to those potentially pursuing a change to PET handle-ware containers. And&Or will offer brands expertise and professional advice in all the transition, accompanying the customer throughout the complete process with support in the design and conception of the handle, bottle, preform specs, etc. with a team of design members and partners to ensure a successful and cost effective final handle-ware bottle.
And&Or range of technology for handles also includes quality control systems to ensure a good and reliable final product after the injection mold process.
Handles are often needed to be tested after injection molding process and And&Or offers quality control systems to vision, control, and detect manufacturing defects.
Companies in this article