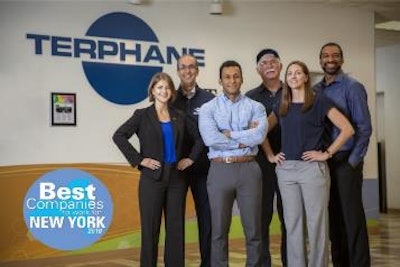 To determine the award recipients, NYS-SHRM evaluates and ranks the best places of employment based on employee satisfaction and engagement, as well as workplace practices and policies as a whole. Terphane is recognized in the small employer (15 to 99 U.S. employees) category for its outstanding achievements in employee engagement.
As part of a robust training and development program led by human resources, Terphane encourages employees to continue learning and acquiring new knowledge. One component is the "Day in the Life" program where Terphane employees can shadow any position in the company. Operators can also take initiative for their development through the skills matrix program, which rewards them as they develop new skills.
"I enjoy working at Terphane, Inc. because of the individuals I work with and the team-work environment that promotes a positive work atmosphere, continuous development, and individual growth, " says Kathleen Wise, Accountant.
The company's employee engagement initiatives include regularly scheduled lunchtime "Terphane Talks" during which employees can learn about innovative practices and how they can impact the business. Communication through Terphane's new mobile app also helps contribute to employee engagement as the company is able to provide faster answers to our team. The app has helped us be more integrated, informed and connected with our business. Employees can even post to the timeline or create group chats about innovative projects they are working on.
"We are like a big family," says HR Manager, Karen VanDerEems. "Employees look after each other. For example, if an employee spends an overnight in the hospital, co-workers will cook meals in the company kitchen to be delivered to the employee's home. Employees also formally recognize their co-workers through our Cheers for Peers and Safety programs on a regular basis."
Companies in this article