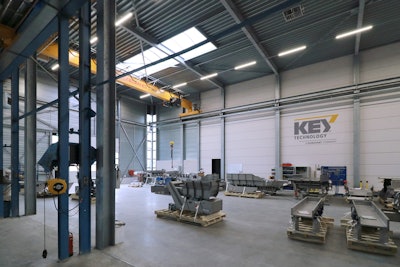 The upgrade increases Key's production capacity at this location by 50 percent and features larger cranes with greater lifting capabilities, a thoroughly refurbished working environment, enhanced customer visitor experience and more. Together with their state-of-the-art Innovation and Solutions Center in Hasselt, Belgium, the Netherlands facility speeds delivery of Key's optical sorters and vibratory conveying solutions to food processors in Europe, the Middle East, India, Africa (EMEIA), and elsewhere.
"Our ongoing investments in Europe reflect our commitment to delivering the greatest value to food processors throughout the region. By manufacturing our VERYX® sorters and Iso-Flo® conveyors in Europe as well as the U.S., we serve our customers more quickly and effectively," said Jack Ehren, President and CEO of Key Technology. "Europe has a high concentration of very sophisticated processors with needs that often differ from those in other regions. Building strong collaborative partnerships with our customers enables us to find the best solutions to achieve their unique goals."
"Over the last three years, our equipment sales in the EMEIA region have almost doubled and our market share has increased. This success is driven by important new product introductions, such as our VERYX family of sorters, and the continuous evolution of our world-class Iso-Flo vibratory conveyors, which help processors improve product quality and food safety, increase yields and reduce operating costs," said Eric Geling, Senior Director of Sales for the EMEIA Region at Key. "Modernizing our operations in the Netherlands supports the growing demand for our solutions."
Two new overhead cranes, each with a 10-meter high clearance and the capability to lift 10 metric tons, enable Key to assemble larger systems on site, such as an air cleaner on a platform, and perform more pre-delivery inspections in Beusichem. Added floorspace and more flexible manufacturing processes allow larger systems to be powered up and run prior to shipment.
The environment features more natural light in the shop and new energy-efficient LED lighting throughout. The open office layout facilitates increased collaboration between departments while ergonomic new office furniture exceeds the latest health and safety standards. Customer-facing enhancements include an updated conference room and conveyor demonstration area.
Key's 4000-square meter Beusichem facility in the Netherlands and 2500-square meter Hasselt, Belgium center complement their U.S.-based manufacturing operations in Walla Walla, Washington and Redmond, Oregon.
Companies in this article