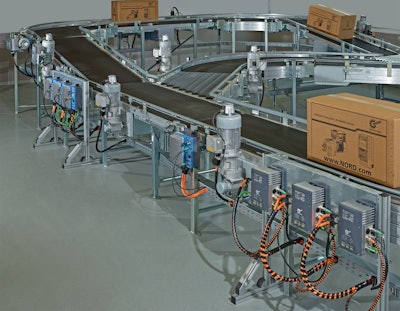 This content was written and submitted by the supplier. It has only been modified to comply with this publication's space and style.
You can check on your kids, your thermostat, or the contents of your refrigerator from thousands of miles away—why wouldn't you want to see how the conveyor systems at your plant are running? Thanks to new cloud-based monitoring technology from NORD Drivesystems, NORD has investigated possibilities how to transmit data out of the drive into the Cloud without having to adapt or change the installation or software. For the past year, engineers worked on a Cloud installation at an internal application test center at Bargteheide (NORD Headquarters) where the NORD drives are tested and demonstrated to customers. It's called NORD Cloud, and after extensive validation in the application test center, the mechanical and electronic drive component provider is now ready to show the installation and to discuss the possibilities in regards to digitization with the customers.
How does it work? The electronics product manager at NORD says the company's 15-conveyor test system was equipped with NORDAC FLEX and NORDAC LINK AC vector drives, which were linked to the system PLC via an industrial Ethernet connection (Profinet). A secure tunnel was then configured through a network gateway to a remote, cloud-based server. This results in nearly continuous streaming of drive data from the PLC to a website on that same server, enabling collection and analysis of values such as motor voltage, current, frequency, temperature, as well as error messages and alarms. The system can be configured to send email and text messages with regular status updates, or alert personnel in the event of a failure.
"Because we send data during the same cycle on which the bus system operates, it's very easy to identify trends," says the product manager. "There might be a voltage increase or temperature change that, if not for this system, could go undetected, and at some point cause an equipment malfunction. NORD Cloud allows us and our customers to be much more proactive on preventative maintenance activities and provide countless opportunities for continuous improvement—reduction in energy usage, for example, or improving wear characteristics of key components."
Customers can visit the NORD application test center for a live demonstration, to discuss potential applications with NORD experts, and share their own experiences. NORD stays close to its customers and we want to understand requirements towards digitization. NORD consults their customers to bring the condition data of the drive into the Cloud more easily without adapting the drive configuration or software.
For those concerned over network congestion caused by streaming large amounts of data, only the values that have changed since the last transmission are sent. The amount, frequency, and types of data collected by the system can easily be adjusted through modification of parameter changes in the IoT gateway. Also, since status updates carry a lower priority than system control commands, there's no risk of overburdening either the PLC or the Profinet bus. Says director of marketing Joerg Niermann, "We at NORD look forward to working with customers that want to make their operations more efficient," he says. "The ability to more easily analyze the data coming from our systems will be an advantage for them in that they will have instant access to their equipment status from anywhere in the world while NORD will ultimately gain additional opportunities for product improvement. It's a win-win for all of us."
Companies in this article