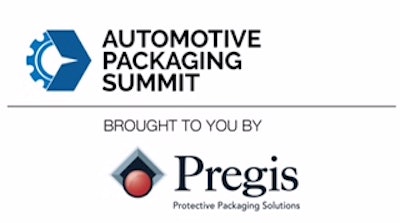 Pregis announced its "title" sponsorship of the Automotive Packaging Summit, the inaugural event focused on helping OEMs and their suppliers find solutions specific to this market segment's needs. The event will be held Oct. 12-13, Greenville, SC.
Branded the Automotive Packaging Summit, brought to you by Pregis, speakers, panelists, and confirmed attendees include representatives from BMW, Honda, Mercedes Benz, Nissan, Proterra, Toyota, Volkswagen, and Volvo. The summit brings subject matter experts and industry leaders together for both visionary keynote presentations for tomorrow's strategy and practical insights on supply chain tactics for today. The goal is for OEMs and Tier 1 part suppliers to discuss, collaborate, and unveil innovations within the packaging value chain.
"The increasing globalization of the automotive industry, more stringent quality control processes and emerging technology are adding complexity to the supply chain. As a result, protective packaging solutions must deliver more value and precision than ever before. This conference puts the key players in the same room which will facilitate dialogue around the evolving challenges and how we can work together to solve them," says Dache Davidson, vice president of marketing, Pregis. "As a leading protective packaging and surface protection supplier to the automotive industry, Pregis is pleased to support to this event."
The event will also feature option guided tours of CU-ICAR (Clemson University International Center for Automotive Research), InLand Port, Greer, South Carolina (providing shippers with access to more than 95 million consumers within a one-day drive) and Clemson Package Transport Lab (certified to conduct distribution packaging tests in accordance with the ASTM International and the International Safe Transit Association.
Companies in this article