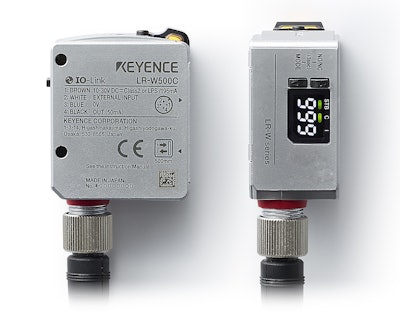 Detection Capabilities: The LR-W is capable of analyzing the full visible light spectrum. This technology allows you to handle countless applications with ease. Solve everything from simple presence/absence applications to complex applications that require you to detect the slightest differences in a shade of color.
Easy Calibration: The LR-W can be calibrated quickly with its simple one touch teach function. KEYENCE constantly strives to innovate while maintaining ease of use, and the LR-W is no exception. Its detailed digital display and highly visible indicator light were designed with the user in mind.
Flexible Mounting: Featuring a 500mm range, the LR-W can be mounted wherever needed. To ensure stable detection, the sensor features an adjustable beam spot. This allows the LR-W to achieve a focused beam spot, even at long distances. Additionally, an IP65/67 enclosure rating minimizes the need for maintenance and guarantees longevity in demanding environments.
New Standard: Given the extent of what the LR-W can do, photoeye standardization throughout a facility is now possible. General ease of use and long life allow for increased efficiency and decreased costs.
The LR-W Series is yet another innovative product from KEYENCE that is not only cutting-edge, but versatile enough to integrate on a large scale.
See more on the LR-W Series: www.Keyence.com/LRWPR
Companies in this article