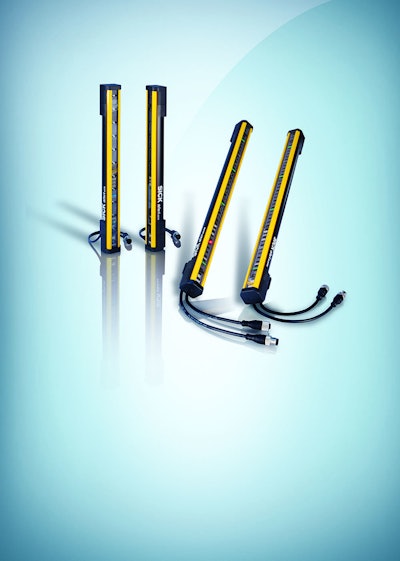 Sick invented the first safety light curtain more than 60 years ago. With the launch of this newest variant of the deTec4 family, Sick continues to offer advanced features and functionality for its customers.
Additional functionalities of the deTec4 Prime include a built-in laser alignment aid—only from Sick —that provides a visible laser that saves time when setting up or readjusting the light curtain. In addition, the deTec4 Prime can be cascaded to protect multiple sides of a machine by connecting up to 3 pairs of light curtains using standard M12 connectors. Furthermore, the deTec4 Prime can be configured via four different M12 system plugs without the need for a computer.
The deTec4 safety light curtains are electro-sensitive protective devices that comply with performance level "e" in accordance with EN ISO 13849, and SIL3 in accordance with IEC 61508. Rugged enough to stand up to the toughest requirements, the new deTec4 Prime has a scanning range of 21 m and a resolution of 30 mm, providing reliable protection for a wide range of machine types.
For more information, go to our website.
Companies in this article