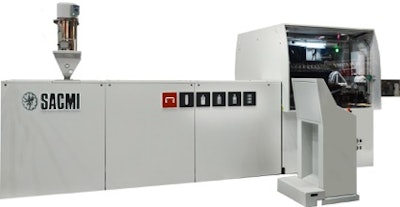 SACMI will display a fully functioning new, optimised version of the CCM 48 with the COOL+ mould for the manufacture of one-piece CSD (carbonated soft drinks) caps.
At the Orlando-held NPE fair, Sacmi will be presenting the most competitive solution on the market for the production of CSD (carbonated soft drinks) caps, one that offers a complete 'turnkey' service and the guarantee of a quality that is certified and approved by the majority of the industry's global players. The machine on show will be the new optimised version of the 48-cavity CCM (continuous compression moulding), which ensures electricity consumption that is even lower than on previous versions.
Able to achieve output rates of up to 2000 light caps per hour (for mineral waters), the machine is equipped with the new COOL+ mould with improved cooling that, thanks to a modified liquid coolant circuit inside the mould (in practice the circuit has been doubled), allows the cooling times that weigh so heavily on total cycle time to be reduced significantly.
At the fair we'll be presenting a CSD cap, the neckfinish1881, the standard one used by all major carbonated drink producers. It is with this one-piece high-performance HDPE cap (that visitors can examine closely by observing the machine in operation at the Group stand) that Sacmi aims to take on the challenge posed by the US market, where the CSD sector accounts for no less than 45% of all soft drinks (water included).
This cap will be produced by the CCM48 with a cycle time of less than 2.4 seconds, allowing output rates of 1200 caps a minute. This result is a direct consequence of the more general advantages offered by compression technology – compared to injection – that range from a lower material extrusion temperature to cutting of the material into pre-determined doses that are all processed inside the machine under identical conditions, thus ensuring complete process repeatability. In short, the outcome is caps with size and weight characteristics that, despite such a contained cycle time, are evidently better that those attainable with alternative technologies.
A strong presence on the US market and its own dedicated branch, founded in 1994, that now employs 65 people: Sacmi offers not just cutting-edge technology but also, and above all, a turnkey service spanning from cap design to cap production, plus the provision of efficient spare parts and technical assistance services: a true "one-step-shop". It should also be pointed out that every proposed cap solution, before going into production, is tested at the Sacmi R&D facility, thus ensuring guaranteed quality for the final customer and so allowing the Group to operate as a technical-technological consultant alongside the customer, from the initial design stage to final manufacturing at the customer's factory.
Companies in this article