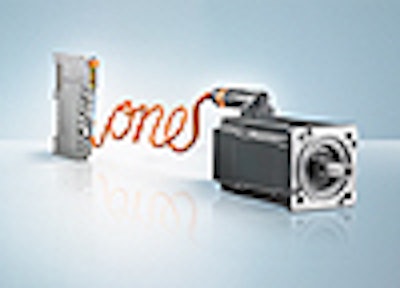 The EL7201 series servo terminals from the Beckhoff EtherCAT I/O system integrate a complete servo amplifier for motors up to 200 W in a compact High Density (HD) terminal housing measuring just 12 mm wide. In addition to the complete integration of the EL7201-0010 into a standard control system, One Cable Technology-equipped motors reduce wiring costs and keep commissioning costs to a minimum.
OCT is also available as an option on the Beckhoff AM8000 servomotor series instead of the traditional resolver interface. Together with the new servomotors from the Beckhoff AM8100 series, the new EL7201-0010 servo terminal enables a faster, less expensive and more convenient method of integrating servo axes.
The EL7201-0010 servo terminal supports the direct connection of new Beckhoff servomotors: AM8121 (0.5 Nm), AM8122 (0.8 Nm) and AM8131 (1.13 Nm). In these motors, the power and feedback signals are combined in one standard motor cable according to OCT.
The new servo terminal extends the modular and compact drive system even further with more scalable options. In addition to solutions for stepper and DC motors, the servo terminals are designed for highly dynamic servo positioning tasks due to integrated, fast control technology.
This extremely high performance is ensured by the full integration of the EtherCAT industrial Ethernet system. In addition to motion control improvements, the user benefits from further EtherCAT advantages, such as short cycle times, low jitter, and simple diagnostics. The monitoring of numerous parameters, such as overvoltage and undervoltage, overcurrent, terminal temperature, or motor load via the calculation of an I²T model, offers maximum operational reliability.
All motors from the Beckhoff AM8000 series feature absolute feedback and an electronic nameplate, which can be read automatically by the EL7201-0010 servo terminal. These features help the user significantly reduce engineering time. On the one hand, absolute feedback makes a reference drive unnecessary, while on the other, the axes can be commissioned via simple plug & play efforts.
Companies in this article