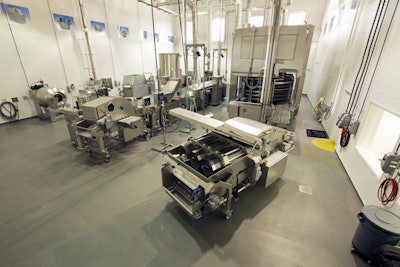 Years ago (then) CFS opened the first technology center of its kind in Europe, an extensive and state-of-the-art testing facility. Since then, there have been multiple technology centers set up at other GEA Food Solutions' sites in Europe. Building on the success of those technology centers, GEA Food Solutions looks to offer a more geographically convenient option for our North and South American customers.
From preparation and marination, to processing, slicing and packaging, GEA Food solutions can offer a solution for most applications in the food industry. This new technology center offers multiple full-line options depending on the application need of the customer. GEA also offers the ability to test a single piece of machinery.
The technology center houses proven GEA Food Solutions such as the CookStar and Easy Fry along side cutting edge machinery like the MutiDrum homestyle breading machine and MultiJector injection system. Whether the product is fresh, frozen, grilled, or breaded GEA Food Solutions can meet many application needs.
The only way to get home-style coated products in an industrial setting is in a drum breader. However, this coating technique has had drawbacks in the past relating to the spread of products at the outfeed, the large footprint, time-consuming cleaning and the dusty environment it produces. The new GEA MultiDrum overcomes all these issues. This paired with the CookStar and EasyFry XL is set to help change the industry.
In the marination equipment range is an all-new GEA MultiJector multi-purpose brine injector. This is the result of two years' intensive development, and sets high standards for accuracy, hygiene, flexibility and versatility. In addition to providing precise and controllable brine injection, it incorporates innovations such as needle cassettes made of an easily removable and replaceable manifold including needles that simplify cleaning and shortening changeover times. A unique tool makes it possible to remove, clean, and return the conveyor belt with one person without moving up- or downstream equipment in the production line.
With a full-time food technologist on staff, GEA Food Solutions works hand-in-hand with customers to develop new products for the industry. The ability to test new products without having to shut down a line in their factory gives customers the freedom to test a new product using GEA Food Solutions machinery. With the combined expertise of GEA and the customers R&D teams, this technology center is set to help push new products to the market and push the boundaries of what is possible. This will help solidify GEA as a technology leader and true partner to our customers.
View the new Technology Center at: http://youtu.be/n9xZjNgR9ko
Companies in this article