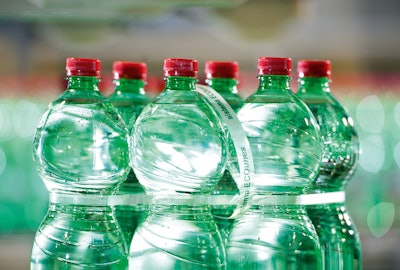 In the field of plastics technology, Krones has developed a new base design for PET containers that features better resistance to heat and pressure coupled with good stability during transport. In comparison to classic hotfill, filling this bottle in the NitroHotfill process is said to enable lower bottle weights to be used, even at high line speeds. The NitroHotfill process, which is used with fruit juices and other sensitive beverages, allows bottle weights to be as light 15.5 as grams.
For carbonated beverages Krones will be exhibiting a container that weighs 30 to 45% less than comparable PET containers, according to the company. The PET lite 9.9 carbonated is a 500-millilitre bottle based on the NitroPouch concept. The bottle weighs 9.9 grams, and features low material costs and suitability for use at high line speeds.
The Contiform AseptBloc is a square 500-millilitre PET bottle weighing just 12.5 grams for product-friendly aseptic filling. It features a tactile design and is based on a square-rounded cross-section and a lightweight 33-millimetre neck finish.
The DecoType digital direct printing system provides individualized, attractive container design without labels. With the DecoType, Krones has expanded its product portfolio for container decorating to include an entirely new variant.
In the field of cold-glue labeling technology, Krones will be presenting a redesigned Ergomatic station that features ergonomic and functional improvements, plus reduced complexity. The Ergomatic functions accurately and dependably, is easy to operate, and can be quickly changed over to handle different label formats.
For wrap-around labeling, a completely redesigned Contiroll ED station uses an ergonomically optimized design, features improved accessibility for label change-overs, and offers enhanced operator-friendliness. In this series, a variant for pre-glued labels is being offered as an alternative.
For non-returnable sixpacks, the LitePac space-saving packaging and palletizing solution provides low energy consumption and up to 74% cost reduction, according to the company. Three EvoLite machines are already running successfully: 15 million LitePacs are on retail shelves. The EvoLite pack-strapping machine creates packs with an integrated looped handle. In comparison to shrink-packs, and other packaging systems on the market, the exceptionally resource-economical production process for the LitePac (which comprises six plastic bottles) is said to offer extremely high potential savings for packaging material and energy.
Visit Krones at Hall 14, Booth E29.
Companies in this article