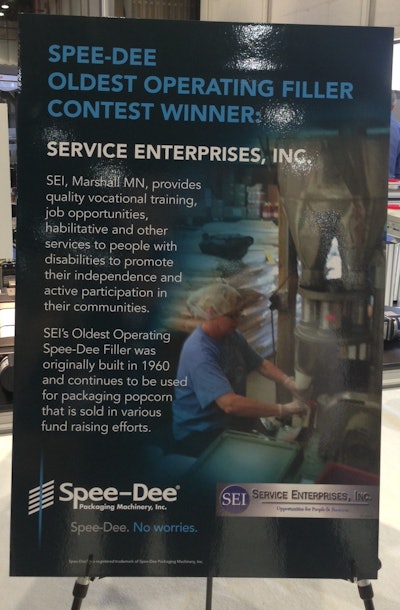 "We're thrilled to have won!" said Betty Stancer, business manager, SEI. "For a company our size, $1,000 is a very big deal. We plan to use the money toward the purchase of a new Spee-Dee filler."
The contest set out to find the oldest operating Spee-Dee filler. Companies throughout North America entered the online contest by the Sept. 15 deadline. After reviewing the submissions, SEI proved to have the oldest operating filler, which dated back to the early 1960s.
SEI uses its Spee-Dee machine to fill 2- and 5-pound bags of popcorn for its Morgan brand label. The machine fills a few hundred bags a day and operates on average three days a week. Morgan Brand Popcorn is sold for fundraising in locations throughout South Dakota and southern Minnesota.
Stancer said SEI obtained the filler when it purchased the Morgan brand in 2005. Although the filler is more than 50 years old and still runs well, Stancer said SEI had been considering replacing the filler with a newer unit. That's why the $1,000 credit will go a long way toward making the new purchase happen.
"Our Spee-Dee machine has been very dependable and reliable over the years, but as it's getting up in age we've been considering the option of purchasing a new filler. This credit will help us achieve that goal.
"On behalf of everyone at SEI, I'd like to thank Spee-Dee for this contest, and we continue to look forward in working with them for our filling needs."
Companies in this article