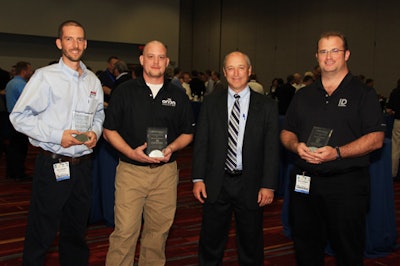 Primary Packaging Business Unit:
Philip LeBlanc, Allpax
Philip LeBlanc's calm sense of urgency and outstanding technical expertise makes him the kind of guy that brightens a customer's day even during a crisis. Philip has been an Allpax Mechanical Engineer for 4 years. When he is called into the field it is typically to resolve a very complex problem. He thoroughly analyzes the situation, develops a plan and communicates clearly with customers. He stays on top of a situation until it is fully resolved and keeps customers informed every step of the way. Customers frequently comment on his excellent engineering skills, substantive reports, and follow through to ensure equipment is operating at peak performance.
Recently, Philip received a "Partner In Quality" award from one of our top customers while installing the first ever production Shaka® retort. A project engineer at the customer wrote "Philip and his team provided us with exceptional service during the commissioning and debugging of our new Shaka retorts. Philip took ownership of any issues and engineered solutions that got us back in operation quickly."
Philip's professionalism and commitment to excellence increased our customer's confidence in our first production Shaka unit. The customer has since ordered 4 additional Shaka retorts and we're proud to say we now have 9 Shaka retorts installed in the field. Philip spearheaded the same type of effort on the launch of our gentle motion retorts. Dedication, focus and reliability are common attributes customers and coworkers use to describe Philip.
In his spare time Philip spends time with his wife and five children on their cattle farm. He is truly an asset to our customers and our business—a true ProCustomer champion.
End of Line Business Unit:
Brian Schablin, Orion
Brian Schablin consistently goes above and beyond for customers and coworkers. His selfless attitude, excellent technical skills, and teaching ability have made him a customer favorite and vital team member for Orion and Brenton. Brian, a controls engineer with Orion, started his career with Pro Mach 11 years ago in assembly at Brenton. He is the ideal role model for the ProCustomer values of proactive, reactive and interactive support. He lives by the unwritten Brenton and Orion motto of "no man left behind" and routinely volunteers to provide installation, troubleshooting, and additional support for customers, distributors, service technicians, and coworkers.
Recently, during a complex retrofit installation, a customer needed assistance beyond the expected scope of work. Brian calmly prioritized the requirements to ensure success and minimal disruption to customer productivity. He worked with the distributor and the customer to develop a plan to efficiently and cost effectively implement a solution. Brian owned the issue, went to work, communicated effectively with all parties during the project, and insulated the customer from stress and production risks. The result was a successful product installation on a tight schedule and a satisfied customer.
The customer noted Brian's effort with the following comment: "I want to compliment Brian Schablin on the fantastic job he did. Without his effort we would not have completed this job on time. It is a pleasure working with Orion and I look forward to working more together in the future."
When not working, Brian spends time with his wife, who is a nurse, and three children camping, ice fishing, hunting, and shooting. He brings outstanding value to our customers and is a prime example of what we look for in a ProCustomer Champion.
Identification and Tracking Business Unit:
Mike Fairbanks, ID Technology
Mike Fairbanks is always thinking about what is right for our customers. His philosophy is to treat customers the way he would expect to be treated. Mike has been providing technical support with ID Technology for 5 years and he continually receives accolades from customers noting his dedication, technical skill, and how much of a pleasure it is to work with him. He's always friendly, responsive and reliable. His attention to detail, positive attitude, and customer-first approach have strengthened multiple relationships and earned him the reputation as a "go-to-guy."
Recently, Mike's superb job installing equipment and follow-through support helped convert a skeptical customer into an advocate who now has 7 print and apply systems and 2 more soon to be installed. Mike listened to the customer, addressed his concerns, and delivered outstanding service across multiple shifts and weekends. The customer has also started buying ID Technology labels and supplies. Mike's commitment to excellence, strong technical skills, and ability to relate to the customer turned a challenging situation into a win-win.
Mike consistently delivers service, support, and knowledge that add value to our customers packaging lines. Customers frequently note that Mike's support helps them operate their equipment more effectively and efficiently. Mike recognizes that serving a customer well today means that he will continue to be a strong customer tomorrow.
In his spare time, Mike spends time with his wife and four children. He is a true professional and ProCustomer champion.
Companies in this article