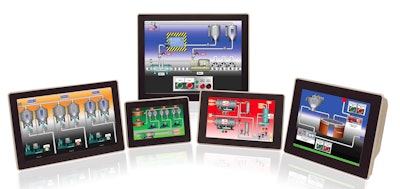 The feature-rich HMI reduces development and commissioning times over traditional systems that use an HMI paired with separate I/O, PLCs, and
other controllers.
Graphite produces high-quality graphics and resolution, and Red Lion's Crimson 3.0 software, makes it is easy to convert to Graphite.
Available in eight different models, in sizes ranging from 7- to 15-in., Graphite HMIs are available as sunlight visible models, and their cast-aluminum construction make them suitable for harsh environments—indoor or outdoor.
Offering a built-in web server, Graphite HMIs enable users to monitor and control their application via PCs, tablets, or smartphones. SMS text-messaging and email alerts provide early warning of process issues,
which helps to avoid downtime. In addition, its built-in protocol converter allows programmers to select 13 or more simultaneous protocols from a list of over 250 to seamlessly integrate disparate devices such as
PLCs, drives, barcode readers, and panel meters.
By logging performance data and critical events, customers can implement process improvements or perform fault-finding activities.
Crimson 3.0 software, which is included at no extra cost, makes it fast and easy to configure protocols, define data tags, set up sophisticated applications, and create an attractive user interface. Designed for ease of use, Crimson allows customers to cost-effectively standardize on one HMI for all of their machines, regardless of the PLC or drive manufacturer used.
Companies in this article